When people think shoulder tattoos, they also think muscle and men. They are right though because the shoulder is a part of the body also associated with power sheer strength and this is synonymous with the male gender or at least we would like to think it is. That doesn't exempt women from fresh and excitingly beautiful tattoos designs made with the touch of a goddess. In this post we will explore the hottest tattoo designs for both men and women that simply make you look good.
Origin of Shoulder Tattoos
Shoulder tattoos were popularized by sailors of old who obviously comprised of male crews only. One exciting location sailors loved to have their ink on was the top of the shoulder as the tattoo can be flaunted with easy in the heat of summer. On the downside, it's a problem area to heal and maintain the tattoo due to sun burn. Some of the most badass tattoos for men do touch the top of shoulder and down the sleeve.
Shoulder Tattoos for Men and Women
As aforementioned, shoulder tattoos are for both men and women and will vary greatly depending on the style of choice. A tattoo impacting the shoulder and other parts of the body such as the sleeve or chest is a combination tattoo. Also you may choose between vivid color and watercolor tattoos or a solid black which ages gracefully.
If you are a lady looking to get a shoulder tattoo we also have got you covered. We have included some seductive and gorgeous works of art that will accent your casual wear and body type so you can show off your new ink with style. These tattoos will give you the perfect excuse to go on off-the-shoulder-top shopping spree.
Sophistication and Style
We give you the most thoughtful, sophisticated and meaningful shoulder tattoos for beginner's intermediates and enthusiasts. It is your shoulder tattoo crash course so you are up to speed on the possibilities available to you for your new ink.
1. Small Birds Tattoo
Black bird tattoo are rather uncommon as they should be given that they represent a higher level of thinking, ideals and morals. Birds have been the envy of man and all other animals that can't fly over the land and sea. They fly high and possess higher potential and are therefore regarded highly. There is a level of mysticism represented by black birds especially when depicted in a tattoo. Small solid black bird tattoos are simple but pack quite the punch with proper placement and execution.
2. Crescent Moon with Stars and Flowers
Flower and the moon are feminine tattoo objects and the crescent is specifically about detox and growth, creativity, manifestation among other meanings. It is also about reflection and contemplation. The flowers are added to increase the beauty of the tat and also to add to the femininity of the design. This tattoo is also about the love for the cosmos given the distant and near stars that twinkle in the background. The transition of the moon is a reminder of the dynamics of life and its ever changing ways.
3. Tiny Flower
This small black rose tattoo is very pleasing for the eyes and is likely to age that way. We could delve into the deep and divergent symbolism of roses or we could just observe that the artist did a stunning job with this piece. The rose does not have thorns and has notably lush leaves on the stem which may point to hope and fresh beginnings with productivity. In that light this gorgeous bold black masterpiece is a representation of happiness.
4. Lace Shoulder Tattoo
This accessory tattoo is wrapped around the shoulder like jewelry and includes some interesting amount of detail. The design is obviously feminine and you just have to spot the dotting that is in every way exceptional. The droplets are the furthest pieces of the design and give it a stunning appearance. This shoulder placement is an area that gets a lot of attention on almost any occasion be it at the beach or when dressed for a formal dinner.
5. Tattoo Roses On Shoulder
This piece entails a traditional styled rose's tattoo on shoulder for women. The flowers petals are realistic even though in monocolor because they come with imperfections. These flaws are the reason each of these flowers is unique. Not all roses are red and perfect. In fact, you just have to look keenly to realize that every flower ever produced has its flaws. It's a natural thing to have perfect imperfections. Roses are a thoughtful tattoo that is difficult to pass up with its deep meaning and symbolism in addition to their aesthetics.
6. Beautiful Shoulder Mandala
They say a mandala makes you some kind of way and therefore the meaning should be derived from the feeling. This piece shows a beautiful flower and denotes the meaning of life and rebirth. The varying shades may stand for the different feelings that a woman might have about life in general. If you love floral designs then you will not need any excuse to take have this inked on your skin?
7. Love Back Shoulder Tattoo
This one word makes all the difference and life worth living. So to express your love for life, family and romantic partner, you can have this graffiti under your skin too. It clearly says love in neat calligraphy so far be it from us to ruin the mood by explaining it away. It's what it is, a beautiful one word tattoo with intense meaning for the wearer.
8. Stars Shoulder Tattoo
Three stars tattoo is one of the most common tattoo picks for beginner friendly inks. But what does this simple tattoo mean? Let's see, there are three stars with a small, larger and largest star of the same description. Now, this could mean any number of things but it's obviously some sort of growth and progression in life's achievements and career. Most people would place themselves in the middle star level, coming from somewhere and going to a greater level of responsibility.
9. Cherry Blossom Shoulder
Cherry blossom tattoos are an interesting and very common choice of tattoo around the world with origins in Japanese culture and tattoo world. This pink and green colored tattoo is a well deserving representation of a tattoo that depicts beauty. Cherry blossoms are a curious plant with a very short flowering time before the flowers disappear and that somehow signifies the shortness of youth. This gorgeous tattoo will also remind you to live in the present.
10. Rose With Thorns
Roses are a popular tattoo item for their stunning beauty and deep symbolism. This rose is has a thorny stem perhaps denoting grief and thoughtlessness. It also means that the wearer might be beautiful but also defensive. The upper back makes an ample canvas for a detailed rose tattoo and truly this flower never gets old. This is a tattoo that can not only remind of the bitter sweet past but get your through thick and thin yet to come.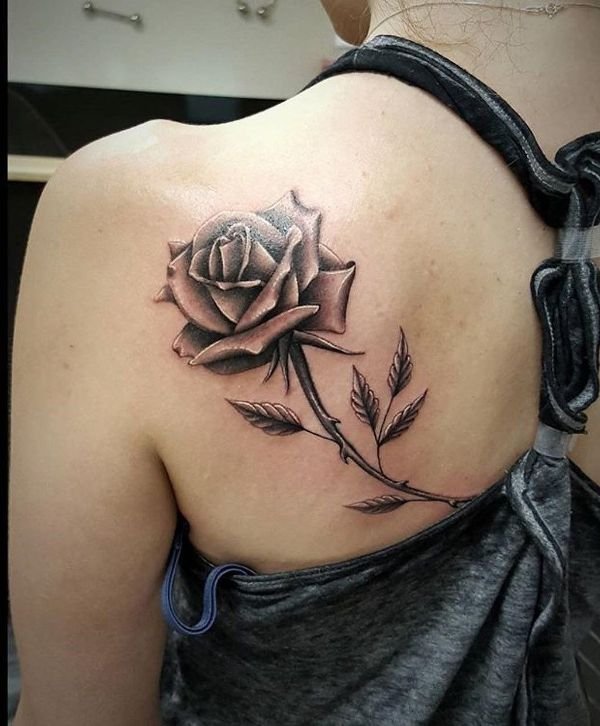 ============================================================================