The creepiest time of the year, Halloween festival is always around the corner since it often takes months of procrastination to settle on the perfect dress up and makeup to go out on Halloween evening.
To stand out from the crowd we all want to find something unique and shouting that will make an unmistakable mark and an impression to last for months to come. No matter what party or carnival you are attending this Halloween, some of the best inspiration for your dress and makeup look you have the internet to thank for.
For this post, we focused on picking out the pretty Halloween makeup looks that will make you look glamorous in the middle of all the gore and insanity of the world.
We also sought looks that would not require professional artists to pull off. You might not get it perfect the first time but these are looks that are fairly easy to recreate at home with mostly stuff you already own. We would love to see your feedback on how you were able to steal the show at your spooky carnivals with these looks.
Spare us the scary stuff and give us glitters, glamour and class this Halloween and leave hearts melting with love and envy.
1. Alien Mermaid
First up, we have this glam and cute Halloween piece with a galaxy-inspired glitter. This is your first easy route to look beautiful as your favorite animal character rather than look scary. The starry glitter surely go a long way in speaking Halloween and creepiness while this still remains a simple Halloween makeup trick you can pull with different color schemes. We absolutely love this first pretty Halloween makeup look. Don't you?
2. Cute Speckles
This dead hot makeup for Halloween features dark lipstick and faux freckled cheeks and nose. A shade of brown around the eyes matches the blemish and gives the eyes a deep stare. It would appear a generous amount of brushwork went to her nose as well thou intentionally unnoticeable. We like that you can have this look fast and without having to ditch your makeup bag. If you like it too then no need to go any further, go for it! But be sure to suggest one of the following for your bestie.
3. Animated Beauty
If you want to go for a delicious Chocolate makeup then nothing is stopping you this Halloween. To add to your exceptional beauty why not throw on some animated ears to awaken the beast within the beauty. This one glam look and one that will not go unnoticed. For those of us who need not look gory, it's okay to look extremely irresistible just like your favorite snack. The lipstick is done to perfection and eyes take some work too obviously.
4. Easy Flower
Her look goes for creepy and cute at the same time. The giant eyepatch and stitches on one side of the face are badass but the other half is beautifully made with a crease cut eyebrow for enhanced beauty. You can have this look with minimum effort even though you might want to get a fresh bouquet for the flower crown. If you are naturally not white-haired you might want to get a similar wig for the same effects. Check out this cool look and try it out let us know how it goes down below.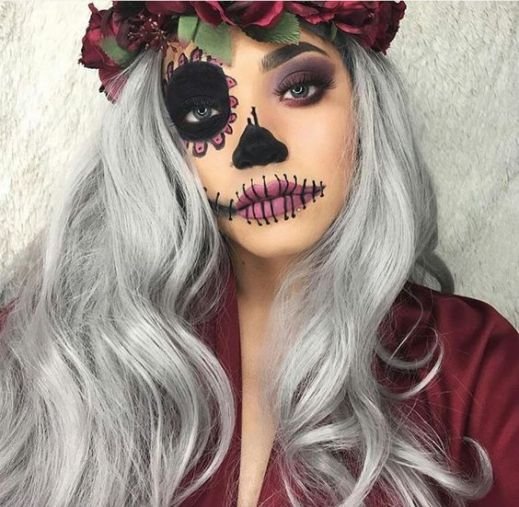 5. Cute Clown
Check out this low effort yet gorgeous and slightly freakish Halloween look for ladies. Halloween is all about wearing unusual costumes and makeup, right? Well, here is one piece that looks as though she overdid the makeup a little bit. The sharp spikes dissecting the eyes makes this a bit scary and pretty at the same time. The eye shadows are also give off the Halloween gore. You will love that this piece is pretty easy to come up with on your own with your basic makeup items.
6. Girly Clown
This one of the most disturbing looks on our pretty looks for Halloween makeup. On the one hand, you have a colorful girly clown but she wields a butcher's knife and looks murderous. Clowns are lovable and merry looking but we all know that there is something creepy about the look, time to unleash terror on your unsuspecting audience with this clown and bloody knife look on Halloween. The blood on mouth, chest and knife makes this look realistic like she literary just did it.
7. Sugar Skull Look
For this look, you can go with simple and cute sugar skull theme where the mouth appears to be stitched tight. This look is perfect for a quick and easy makeup to be your best within a few minutes. It will easily match your partner's skeleton look and is also a viable choice for couples. We like that this is nothing new but it has an interesting twist that makes it stand out as pretty and scary at the same time.
8. Blue Tears Comic
She looks like straight from a cartoon and rather unreal, doesn't she? Go for this look to express your creativity and love for comic books with the sensational blue tears flowing down your plastic cheeks. This look is about turning your face into a cartoon of some sort and might be achieved better for photos with all these cool new apps you can get on the store. The red band of hair also looks unnatural and therefore in totality this is one look that will be eye-catching for your online audiences.
9. Pretty Halloween Makeup With Stones
Isn't she gorgeous with the stones embellishing her forehead like that? Sometimes Halloween is more than just frightening people and more of channeling that inner and outer beauty for all to see. This Halloween, express your love for gems by beautifully crafting your own gem look. She looks glamorous and party-ready without having to cover her face with paint. She surely will be glittery in the light and a disco ball in the dark. Be sure to use the best makeup glue to avoid hurting your face while removing the gems.
10. Scary Rhinestone Halloween Makeup
This is for you if you are thinking fear factor and stones accessories this Halloween. What an interesting twist to the typical stone Halloween makeup with this sugar skull that looks as gory as they come. The rhinestones on her forehead only serve to make her look cold and frozen. A black nose is always conspicuous and the black eye shadow speaks evil. This look takes after the sugar skull for the giant teeth and skeleton visualization. The darkness extends to the neck ad upper chest area. This piece will take skill and time to recreate plus a ton of black paint.
11. Mistrust Clowns
As much we mistrust clowns intentions, you have to give it to this one, she sure looks pretty. The best part is that the look is cheap and super easy to accomplish without deviating from regular makeup items. Add a red don on the nose to make the clown more dramatic ad see how people around will admire and also be wary of your presence at the party. This is the classic that you can't go wrong with when in need of a last-minute look that doesn't need a costly costume to advertise your presence and character.
12. Avatar
It's now your time to transform yourself into your favorite movie character from the movie Avatar with dedicated effort and a reasonable amount for accessories. this is a look that will surely require some time to practice and a bit of effort and perhaps help from your best friend. You might need to consider getting light foundation concealer, translucent powder and a few makeup brushes and even a beauty blender. liquid lipstick also comes in handy for those glossy lips.
13. Glam Clown
Check out his glam clown makeup that is not the usual creepy look typical for clown but rather a sexy compliment for your Halloween look. It features a weeping clown with black tears and a red nose and lipstick. This on-point clown makeup is the look that you are looking for to be the focal point at every Halloween party you attend. Why go for freaky looks that will give people nightmares when you can enchant them with this look for weeks to follow.
14. Glitter Alien Makeup
If you are looking skyward for some spooky yet beautiful inspiration for a costume this Halloween then you will fall for this starry galaxy inspired look. She looks extremely gorgeous and out of this world a thing that we all want to be on the eve of Halloween. If you want to dazzle everyone, this is the glamorous look that will illuminate eyes and hearts by day and night. Glitter is normally easier than face painting and will eliminate the need for a real costume. Best part is, you can have this look in only minutes.
15. Glitter Halloween
We are not sure if you are a little terrified by this beautiful monster but there is no telling this is the exact replica of #metallicgoals. This is yet another suitable last-minute makeup that you will not require much in the way of a costume to shout for attention at any Halloween carnival. Make your costume over the top with this complimentary makeup with plenty of bronze glitter.
16. All White
While everyone is stuck to rainbow colors and everything this Halloween, this super white makeup will have us feeling some type of way. This should get everyone in the Halloween spirit without channeling rainbow colors. It is the perfect look for anyone who wants to look attractive and glamorous on Freak Night. Also, it will take no more than a couple of minutes to get this on and to take it off. Just pick your favorite white dress and you already halfway there. Just be sure to use high-end white paint for your face so that it won't smudge and be like all over the place.
17. Broken Egg-Shell
Check out this broken egg look that is among some of the coolest pretty Halloween makeup ideas we have seen. This look is simple really, you just have to draw convincing egg cracks on your face and you are completely transformed. You can change your complexion to a lighter one if you like. The pink eyeshadow and lipstick also add to the sexy look. perhaps a new idea is hatching from her head this Halloween.
18. White Sugar Skull
Next, we have this stunning feminine makeup idea for Halloween with a all-white sugar skull style. If you are going for a retro vibe this holiday then it will be fun to recreate this look and find the appropriate white dress to go with it.
19. Gothic Makeup
It's time to channel the dark inner self to the world this Halloween with this gothic makeup. This look is all black but it is also pretty and sexy with the red lips. You can't miss her accessories for the hand and crescent moon on forehead which could mean some different things depending on who you ask. It's true, she is intense and downright creep but also cute.
20. Pretty Girly Clown
What a way to end out top twenty most inspirational pretty Halloween makeup ideas for this season! This girly and happy clown look is a great place to draw your inspiration for the best crown makeup yet. This perfectly symmetrical and balanced look is accompanied with simplistic hair-do and will go well with most clown costumes.