Are you in the market for a high end Flat Iron that will never disappoint for at least half a decade? Word on the street is that you can't go wrong with the NuMe brand and specifically the Megastar or Megastar X the hyped version. When you are shopping for straighteners, there is no doubt that you will have to choose carefully and ditch quite a few options that are potentially good purchases. Unfortunately, there is no one straightener that strikes the sweet spot and balance for all hair types and personal preferences. Pay attention to this NuMe Megastar Hair straightener so we can hook you up with a cool flat iron that won't bake your hair.
It is a nifty and well-crafted styling tool that got your back when you really need it for every day styling and straightening needs and those horrible emergencies when you just have to go.
The Megastar starter pack allows you to unpack your hair's natural potential and give it a swift kick to Hollywood worthy status. This obviously sounds too good to be true and so we didn't believe the hype at first ourselves. So we set out to review one of the most sought after styling Irons with a hefty price tag and an equally good reputation. Before we rush to make any recommendations we want to make sure that you fully understand what options you are buying in your new flat Irons and if it's the perfect fit for your needs. Seeing as we review so many flat Irons, we are sure to be thorough with each review so that you get the best match for your needs.
So, did the NuME Megastar win our editorial and reviewer teams over? Here is some specs and performance appraisal to determine if this is a worthy investment or a total loser. The good, the bad and the ugly, here is a candid overview of the now famous Styling Iron as we found it.
PROS

CONS

Lightweight and easy to use.

Multipurpose hair straightener and curler.

100% Tourmaline ceramic plates protect hair.

Adjustable temperature control.

Integrate heat strip control.

Auto-off.

Ion booster and negative ion technology.

Swivel cord 8 ft and 9 inches and universal voltage.
Its pricey.

Typically becomes very hot.

Cod may be worn by constant pulling.

Not for all hair types.
Complete Review of NuMe Megastar
Design
This styler is a high end device and has earned its place among top tier stylers with a touch of luxury and class. Tourmaline ceramic plates offer smoother strands for every stroke and it also packs those spring loaded floating plates that make it very easy to get an even squeeze of hair.
It also feature the 360 rotating swivel cord that makes professional use possible as you are always moving around. It has this sleek and gorgeous look that adds character to your booth and you can choose from 4 great colors.
The 4×1 inch plates is an ample surface to make styling easy and faster for people having to handle more volume of hair. Megastar is a brand we respect for their touch of class and flexible design especially with this styler and its super version. You can easily achieve high or medium heat and maintain it on a long plateau for super straight hair or wavy locks if that's what you desire.
The tourmaline plates and various other premium features make this styler a bit pricey and it can be argued to be a good value for money as far as the design is concerned.
The NuMe Megastar Heating Process
The tourmaline feature of this styler qualifies it as a high end tool and we expect nothing less of stellar results when we put it to the test. An important thing to note with this and other adjustable stylers is that there are other heat settings besides the highest. hotter is not always best and it is best to experiment with lower setting then slowly work your way up to the most appropriate setting for your hair type. If you have really soft and delicate thin hair then you will find that you never have to move beyond the lower limit.
Performance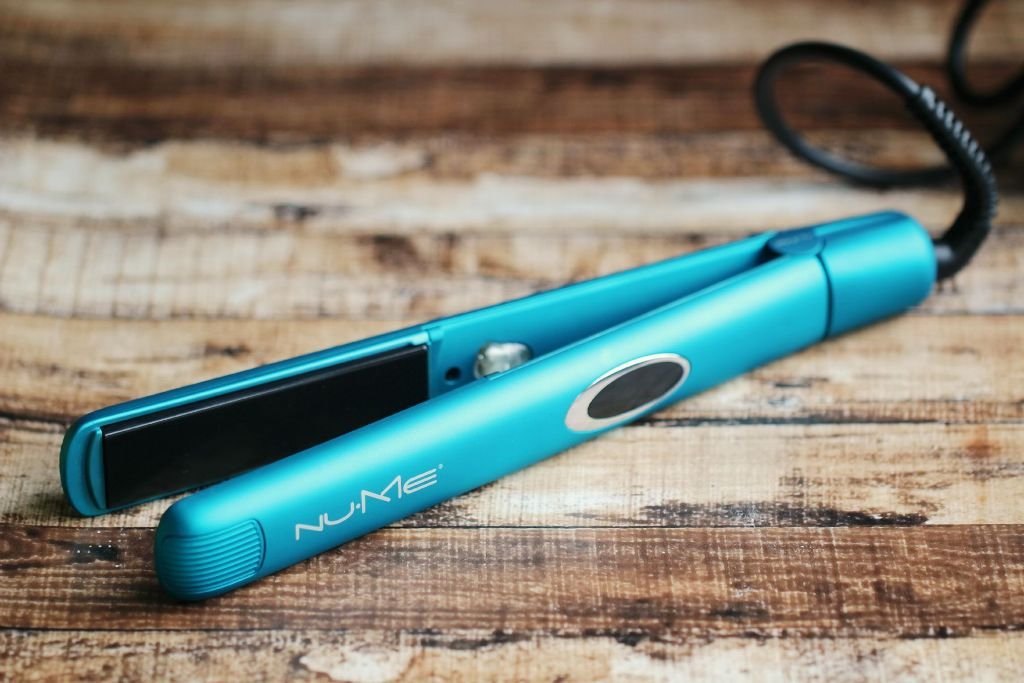 When we put the NuMe Megastar Hair straightener to the test out in the street, it did not disappoint. You can almost visualize how the tourmaline feature gently persuades hair to behave nicely with the heat damaging effects of older metal plated models. You do not have to deal with the tricky frizz that makes you think you need another pass.
Our salon professionals and every day users agreed that this cool iron was worth the bucks. It did not leave any parts of the hair or hard to get to sections because it is just the right amount of fluffy but not too bulky. The flexing plates give it a swift kick because you can self-treat from all angles and with the same results like you had help.
The professional finish with a natural glow might be due to the famous Ion Boosting technology which reduces frizz and works in conjunction with the Negative ion technology to add moisture while styling for sleek and shinier results.
Hair Damage
With tourmaline plates you have the least to worry about in terms of hair damage due to uneven heat especially in a trustworthy brand like NuMe. The styler is responsive and seemed to clique with most of our testers. Just the same, there is a lot that could potentially go wrong if you do not pay attention to the instructions and good styling routine. Every day use on already damaged and frayed hair will not bring it back. We feel like some of the worst reviews yet about some of these good Flat Irons come from people who have been struggling with hair care for years before they got the styler.
Battery Life
NuMe does not use batteries for this model but instead adapted the device for universal power outlets. Even though it cannot detach from the power cord, it swivels in a way that supports your movement I case you want to use this for salon equipment. On the plus side, it's lightweight and will not burn you out thanks in part to its incredible ease of use.
Verdict
We thought the NuMe Megastar had a good value to quality balance even for the pricey peace that it is. It is a very good investment for you who wants to transform your everyday hair into the same good quality styles you see on TV. It is as good as advertised and everything from the adjustable temperature control to the integrated heat strip and tourmaline ceramic heating mechanism seems to function well. It is not the price range or specification for everyone but those who can afford this might find it indispensable.
How long will I take to get my whole head done?
NuMe promises to cut down your styling time in half but they are not specific on the time in minutes. We found fifteen to twenty minutes to be the average given relatively straight hair in good health and condition.
Is the Tourmaline plate layered?
No, NuMe being the cutting edge makers of styling tools they are used 100% solid tourmaline ceramic plates which are 1000% more effective than cheap metal plates. The strip comes into thermal contact with hair for uniform heating giving off that classy professional shine.
What does the ion accelerator do?
The Ion booster technology used in this and a handful other stylers generates millions of negative ions exposing the hair strands to ion therapy which is scientifically proven to give a better shine and reduce frizz.
How small are the heat increments?
The temperature range for this iron is 1900-4500F with increments of 20 degrees. This mean you have a better control over the temperature that ends up heating your hair.
What is the width on the plates?
This styler comes with 1" plates.