There comes a certain age when you feel it's the right time to upgrade your look. Mostly when we hit puberty and adulthood. This way there is a certain image that each stage of our life carries. To maintain your look at the age of 50 might seems difficult, but to be honest, it's not. There are so many celebrities who are maintaining youthful by getting just the perfect haircut matching with their personality and face cut.
50 is a beautiful age. All the women above 50 years of age who are wondering what look younger, decent, respectable, and not outdated, you have come to the right place. We have come up with some graceful hairstyles that are perfect for women over 50. Women who are aging gracefully and want to give a new touch to their personality should first focus on the right hairstyle. It plays a key role in creating your image.
There is no hard and fast rule of deciding the perfect haircut but there are certain things that need to be kept in mind while getting a new haircut. Your facial features matter the most along with that the quality of your hair, its thickness, and length. Given below is the top 20 hairstyle we think will suit every woman over 50 years of age. We have picked up different Hairstyles for Women Over 50 with Bangs for different hair length, hair color, and density so that you can review many options and pick up those styles which will fit you in the best light.
1. Short Crop
Starting a left with a short hairstyle, here is a short crop hairstyle with Bangs. This piece-y one's hairstyle is perfect for women with a broad face or round face. Defined by multiple layers going in different directions, this is a totally cool and polished look. Style the ends of your layered hairstyle with a bit of styling gel or mousse. It will add a lot of interest in the angle lacking face shape.
2. Side-Swept Bangs Honey Highlights
This gorgeous young haircut has discreet layers to add a lot of dimensions. This type of hairstyle when falls on the shoulder with honey highlights looks incredible on fair complexion women. Get the hairstyle by getting a medium haircut with straight or soft curly hair. As you can see the layers are not very separate from each other. The idea is to make a lot of layers together softly and elegantly. A multi layer hairstyle with front side-swept bangs is rightly separated and falls on the forehead. The different level of hair locks on the shoulder is what makes the hairstyle interesting and youth. It looks great with open hair or among women who want to do high pony with front bangs falling on the head.
3. Blonde Bouncy Curls
This hairstyle is ideal for women with thin hair who want to add volume to their hairstyle. The addition of front bangs further creates the illusion of a cleaner face by cutting off extra cheek fat and broad forehead. You can create this hairstyle by creating soft curls on your blonde hair. The easiest way to do is by parting your blow-dried hair down the middle. Now, pop-into hot rollers or use curler to create soft curls along the length. Make sure not to curl the front bangs to create the exact style as shown. Now finish off the look by covering your head with straight bangs. Finish with hair spray by styling with a center part on the crown area.
4. Sleek Front Bangs
If you have got medium length hair with a completely straight and silky texture. This hairstyle might be your thing. A little bit of mess to create this layered Bob look with front side bang is required. Start by creating the front 2 layers, one little shorter in the front for the bang and the rest should be of the same length. Make sure to style it in such a way that it highlights the sleek ends of your hair. The bottom needs to have a little curve with pointed and neatly brushed back to create a cool version of a sleek look.
5. Messy Pixie Highlighted Bangs
Who said the hair needs to look neat and polished all the time for women over 50? Messy hair is in trend and combining it with Pixie haircut is what this new short haircut has to offer. This popular Pixie haircut with highlighted layers in the front looks amazing on working women over 50. A hairstyle that embraces both confidence and style with it undone look and front spiky bangs. The addition of the front layers gives a feeling of movement, while the irregular part of hair falling on the forehead enhances the sense of perfect imperfectness. For women over 50 with a square face, this cut is great because the bangs and layers will balance the length of their faces.
6. Angled Bob with Bangs
Want to highlight your facial features well? If yes, then this hairstyle is for you. This angled bob gives a nice shape to your face. Everything is so classy about this hairstyle with it's the haircut, color for texture. Perfectly structured with smooth silky curves falling on both sides of your cheek. Further, the three bangs falling on the forehead add more charm to this look. If you don't have straight hair, use a straightener. Also, a little bit of volume is added to this look using a blow dryer. Do not backcomb the hair as it will take away the silky smooth texture. Having shiny blonde hair is add on to get the exact hairstyle.
7. Wavy Shaggy Medium Hairstyle
Got natural black hair and wondering how to style a perfectly suit your age? This hairstyle lets you flaunt your thick black slightly wavy hair. Women over 50 with hair length almost reaching the shoulder should try the hairstyle. Start by doing center parting from the Crown area and cut the front hair into bangs and section of the hairstyle into bangs and let the hair look natural with beach waves to frame the face and emphasize your favorite features.
8. Feathered and Bangs Hairstyle
This classy hairstyle with the feathered end is one of our favorite pick for women who like to look carefree and confident. Falling just above the shoulder can try this hairstyle as it makes your hair look thicker and give it a nice texture and adds thickness. A flattering option if you long for a cropped style but aren't ready to commit to the pixie cut, try this mid-length haircut.
9. Long Hair Smooth Curls
This classy curly hairstyle is combined with a side-swept bang. The nicely polished bang falling on one side of the head is a modern take on the classic cut. Soft curly hairstyles pair flawlessly with this haircut, creating a sleek and professional vibe. The curly styling offers more of a natural, youthful look for women above 50.
10. Mild Layered Shoulder-Length Cut
Another pick for shoulder-length hair. These modern and cool-looking slightly curled-up hairstyles are easy to maintain. Start by side parting your hair with front bangs on one side and curl up a little to create a polished, rounded bottom. Finish it off with some straight and wavy strands with a shine spray for extra polish. Keep up your natural hair color or if you want, color it blond to avoid grey hair.
11. Multi-Layered Featured Bangs
Looking for a hairstyle to adds thickness and maintains texture – this flattering hairstyle is a good option for all straight silky hair types. The multi-feathered layered style looks fun. You can easily try this by asking your stylist for chin-length layers in the front that get longer and longer as you go back, plus ask them to add full forehead-covered lengthy bangs. Blow-dry with a round brush to style it as shown.
12. The Flow Long Length Bangs
Look younger and charming by trying out this chic hairstyle. Adopted by many actresses over 50, these sleek wavy layers allow movement and dimension. This will work especially on women who have thick golden blonde hair that has long hair with mixed hair texture.
13. Two-Sided Layered Bangs
Embrace this beautiful hairstyle for a natural look. Just the addition of two simple layers can create magic. Both the top and bottom layers need to be styled in opposite directions, the shorter layer with its ends moving inwards and the longer inner later with outer hair ends. This way it creates density and can be detrimental for those with fine hair.
14. Blunter Cut with Front Bangs
Wear confidence by trying out this short hairstyle. Ideal for women with less hair in the front, this hairstyle hides away your broad forehead and gives a boosts fullness to your thin hair. The addition of a few bangs falling just above your eyebrows is a great addition for working ladies with super short hair.
15. Colour Graded Voluminous Hairstyle
Falling in between Medium-to-short hairstyles for women over 50. This hairstyle has got amazing hair color. Starting from a dark black-brown hue from the side parting to blond at the hair end. All the back hair is puffed up a little to give more volume while the addition of front layered bangs is highlighted by strategically cut layers. If you have fine, thin hair this can be an excellent way to give some extra volume and lift.
16. Beach Highlighted Waves with Bangs
This golden brown highlighted style is popular among ladies over 50. If you have natural beach wavy hair then this hairstyle further helps you maintain your youthful glow in low budget. Also, this style adds volume because of the beach waves hair cut in feathered layers style. The addition of sweet front bangs makes it more youthful and fun
17. Mid-Length Sophisticated Curls
Mid-length natural black hair is what you have got? No worries, this mid-length hairstyle frames the face and neck flatteringly. The soft curls further take it to the next level of sophistication. If you don't have those curls, worry not to use a clip-less curling wand, texturizing spray. Create that Soft curly with center parting and create create very light bangs on the forehead along with the loosely curled strands.
18. Lob with Few Bangs
Most of the women over 50 prefer to keep their hair short and tidy. If you are one of them then try these lobs designed on sleek straight hair. A good option for women with medium to short hair length, this could be your clean constructed look while leading out. The front side bangs make the look youthful for over 50 without the risk of "trying too hard to look young."
19. Asymmetric Front Bang Hairstyle
Women above 50 who have got short hair with silky texture should try this hairstyle. The uneven cut at the bottom tip of the hair can be an easy choice for those older women who are tired of longer locks. This hairstyle can be achieved by getting a lot of front Bank in the asymmetric cut so that on one side the bang side is shorter and as it reaches the other side, it gets longer. The hair is styled by keeping 80% of the aligned on one side so that it forms an asymmetrical look.
20. Blonde Feathered Hairstyle
Check out the way, these layers fall naturally and effortlessly. Ask your hairstylist to divide the front hair and the back hair. Start by chopping some feathered layers bye in the front as shown. The back hair is dropped in a different way to form bikes like a layered look bus stop. When you're blow-drying make sure to fix the ends towards the back.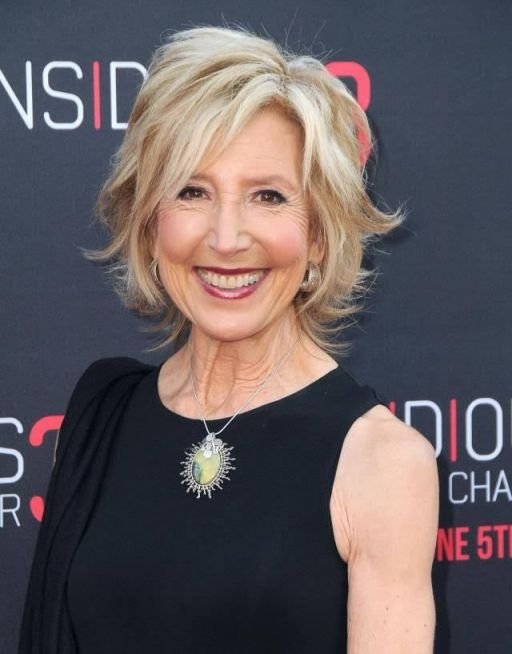 From short, wavy hair to straight or curly hairstyles, there is no limit to Hairstyles for Women Over 50 with Bangs. Suit what fits you best and keep experimenting even if you are 50 because there is no age limit for amazing hairstyles.