Since its debut in the beauty industry in 2013, GHD has been a fantastic brand to work with and one that almost sets the entire gold standard for hair tools and especially so when it comes to flat irons. The company has since grown into a powerhouse releasing hit after hit with the ultra-modern Limited Edition Gold Styler with its iconic Lulu Guinness lipstick kiss adding to the array of beauties in their innovation list. It is the supercharged version of the GHD gold styler that is another hit.
This is the straightener that promises to curl like a pro and deal with your everyday hair care needs like a salon pro with smoother and sleeker finishes for most hair types. This goes for you who does a lazy job at straightening regardless of your hair length and thickness. The promise is to get your hair into best form and glam while guarding it against excessive heat and breakage.
When you are into limited editions and fancy cute and effective hair tools that are collectible then this is one of those special releases that you just have to have.
Is this the ultimate hair taming and smoothing device in the flat iron category? Let's peek under the sleek black matte finish.
PROS

CONS

Lulu Guinness iconic lip designs.

New Dual-zone technology.

Smooth contoured floating plates.

Universal world voltages.

Sleep Mode.

Professional length of swivel cord.

Quick 25 second heat up time.
Only one temperature setting.

No safety lock.

No carry case.
Complete Review of GHD Limited Edition Gold Styler
Design
The Limited Edition Gold Styler is surely a thing of beauty on the outside with its Lulu Guinness design. They gave the GHD gold styler a beautiful makeover and voila! But it's more than just the exterior that has got that touch of genius from the GHD creative and engineering team. This styler also introduces the dual zone technology which is a premium feature that controls the temperature on both plates independently. So unlike some cheaper gadgets, this style actually performs its temperature regulation based on the measurements taken by each sensor on each adjacent plate.
The styler is preset to the optimal styling temperature of 1850 C or 3650 F that sufficiently heats the kinkiest natural hair from root to tip without heat damage. A lot of flat irons pride themselves in adjustable temperatures but not the Limited Edition Gold Styler.
Another notable feature of the Limited edition GHD is the rounded barrel that makes smarter effortless curls and leaves hair unscathed.
This device comes with adaptability for most power systems around the world so that you and style wherever you have breakfast around the globe. It is an important feature for when you need to travel for work and pleasure.
Heating Process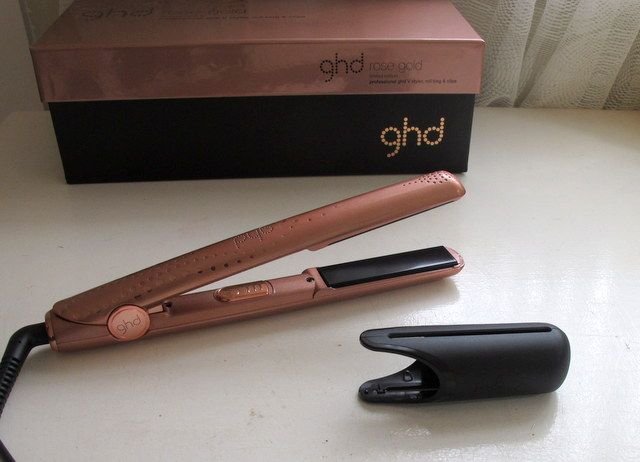 This flat iron has an impressive 25 second heat up time and gives another cheerful beep to let you know it's ready. We all need to shave some extra seconds off the hair routine when faced with a busy schedule. You can also leave it on and it will shut down after thirty minutes of non-use so you don't have to rush back to switch it off.
Performance
Loved by celebs, hair stylists, influencers and all beauty enthusiasts around the world, the GHD brand is a test of 128 consumers, significantly more consumers agreed that GHD gold was better than GHD V styler for leaving hair sleeker, smoother, shinier and healthier looking. We love our GHDs simply because they are amazing. You may feel like with cheaper brands you are saving money but then what use is it when you have to keep shaving your split ends and replacing the gadgets?
Styling with GHD gets your hair straight all day and it's the premium salon results that makes it worth the big bucks. This is the limited edition making it that much more valuable as a collectible and a styler you will always love having around especially since it is apparently indestructible as well.
Hair Damage
The brand GHD is a powerhouse in leading research for quick and sustainable solutions to every day hair care needs. Professional hair mavens anywhere around the world recognize the sophistication and tech used in these stylers that makes them some of the safest around for everyday use. The optimal 185 C makes it ideal for long wearing and daily use without damage to hair. Effortless styling and minimal damage to hair are the perks you get for paying top dollar for a limited edition flat iron.
Battery Life
This styler does not have an internal power source. It has universal voltage so you don't have to worry about styling on your overseas trip. You can order your styler with the UK three pin plug or adapt it to the US two pin version. Overall, it draws a 68-75W power from the grid making good heat around the world.
Verdict
If you are looking for a fuss free styler that you can rely on to give you salon results without having to bake your hair then GHD is a reliable array to buy from. The optimal styling technology makes sure you steer clear of mediocre results and heat damage at the same time. It is a bit pricey as are the entire fleet of hair care products from the same brand. On the Plus side, you get to buy with confident and are backed by tons of support, warrant coverage and gifts like the heat resistant bag and plate guard.
What it is?
The Limited edition gold styler is a hyped version of the GHD Gold Professional styler series made for all hair types and produces sleek results. The device is luxurious in user experience giving ultra-shiny and professional styling results.
Who is it for?
The GHD limited edition is for all hair types and makes sure that you can achieve the same extra ordinary results regardless of your hair type.
How to use?
Prepare your hair by making sure it's dry and spritzed with a generous amount of heat protectant spray from GHD and proceed to divide it into sections using section clips. Turn on your style and wait twenty five seconds.
How did GHD arrive at the 185 C heat setting?
As leaders in the hair health and care research, GHD scientists and engineers discovered that the ultimate temperature for taming human hair is the 1850C or 3650F.
What is the Dual zone tech?
The plates on this styler have been equipped with the new dual zone technology which means the device takes measurements from both plates independently to control the temperature.