Foxybae is that west coast brand that is all about women empowerment showcasing their S.L.A.Y slogan which stands for Style Love Attitude and Yaaas.
You'll find a lot of buzz on Insta and around the web inspiring women from all over the world to become the best versions of themselves.
For this post we are going to review an awesome product that is often underestimated but capable of intense styling when it comes to heat treatments for hair. We've reviewed several items from the FoxyBae brand but so far this is the first hair brush we present to you.
This hairbrush is an ionic based technology based straightener which means it takes care of shine and volume.
FoxyBae actually includes a real ionic generator in their ionic products and we looked forward to seeing just how effective it's was when used in hair brush as compared to their flat irons.
The FoxyBae rose gold straightening brush claims to be capable of straightening hair while retaining volume. You can use it as a straightener right after your blow dryer. It is a top brand and it came with free gift s so we thought to try it out for you!
Among the selling points but this straightener is the ceramic tourmaline which promises healthy and smooth hair with responsible heating.
We were also looking to experience that ease-of-use and safety that FoxyBae is well known for. It's always easy the shop for items in this brand because you buy with confidence and a free money back guarantee.
So we put on that live fast love hard and keep it foxy attitude in order to deliver you a great hair tool review and no fox given.
[proscons]
Complete Review of FoxyBae Rose Gold Straightening Brush
Design
This hair straightener is a ceramic ionic technology based heating tool with ceramic tourmaline plates a great ease of use and a ton of safety features.
Tourmaline technology allows you to style your hair using negative ion therapy for silky and straight hair looks in one smooth pass.
This is possible because tourmalines heat hair evenly from the inside out that's blocking on moisture loss and reducing frizz.
With this hair brush you can enjoy faster styling compared to you I flat ironed thanks to the increased surface area of contact with her in between the heated bristles.
Temperature control offers a mod for quick styling with less damage. The maker promises lightweight and ease of use with perfect ergonomics.
Negative ions are supposed to soothe hair by selling the cuticle giving your hair a major bounce and shine.
FoxyBae does not mess around when it comes to professional heat tools and provides ample cordage for all their heating tools and this hairbrush is no exception.
To be perfectly clear with styling brushes you did not expect like pin straight hair but brother a blowout finish. That is primarily because you can't get like the tension you need to really force coarse hair to straighten out and you can only ask so much of a hairbrush.
Here are some results when you put the rose gold ceramic tourmaline straightener to the test.
Heating Process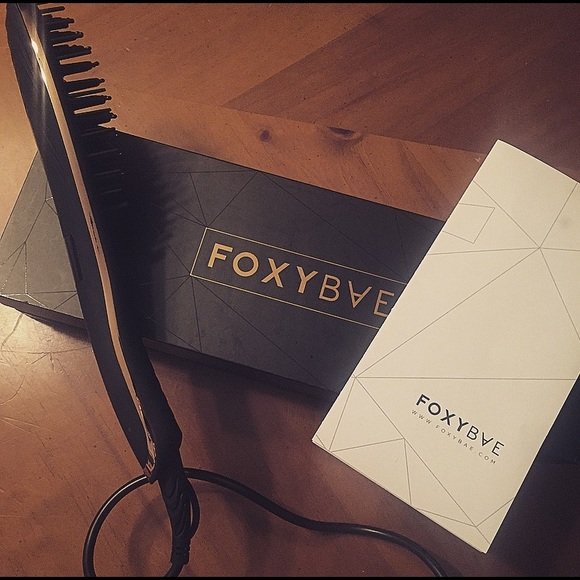 This airbrush features tourmaline ceramic foetus with the unique dynamic alignment system. This ensures that your hair is able to get in contact with the bristles in order to achieve a genuinely silky and smooth result. Ceramic heating issue has even heat distribution across the brush and ensures that your hair is not exposed to excessive and damaging heat for too long.
A smooth and glossy finish ensures that the brush is able to glide effortlessly through hair leaving it shiny and frizz-free.
We've always had faith in FoxyBae's heating systems and the rose gold straightening brush does not disappoint either.
Performance
Packing that game-changing ionic hair straightener technology the FoxyBae rose gold brush has an unfair advantage over typical heating brushes because it features a built-in ionic generator. This generator emits a huge amount of negative oxygen ions which interact with your hair on a molecular level. This technology not only hits but also saw the hair cuticle reducing frizziness, split ends and knotting.
We loved the look and feel of the ceramic tourmaline hair straightening brush thanks to the easy and smooth glide through her. No matter if a product is advertised a ceramic or not you'll usually tell by the level of harsh treatment it delivers to your hair. We found this brush to be gentle which can be attributed to the infrared heat and extra negative ions that takes away the extra bumps.
You can tell that the heating is if then because you don't have to go over the same section of hair a bazillion times. It takes slightly longer than a flat iron would but is way less damaging to hair.
If you're already dealing with hair damage we would recommend this brush because it is gentler on your hair.
Additionally this hair brush is easy to use and savvy. It comes with an appropriate cord length that swivels 360 degrees and also includes a heat mat and free sectioning clips.
Hair Damage
FoxyBae's ceramic tourmaline heating technology is 20 times more effective than flat irons for negative ion therapy and is scientifically proven to condition and straighten hair. To the extent that you are able to test it the ceramic tourmaline heating surfaces seem to be genuine and have that effect of locking in moisture to reduce tangling and breakage.
It is capable of hitting at 185 degrees Celsius all 365 degrees Fahrenheit within seconds and as a top temperature of 232 degrees Celsius which is the equivalent of 450 F.
Infrared heat means styling at a lower temperature and less damage. FoxyBae uses nanotechnology for cleaner tresses with antimicrobial surfaces that will not permit growth of bacteria.
Battery Life
This rose gold straightening brush does not come with an internal battery. The Makers do however include a professional cord length with a swiveling attachment to allow professional use of the brush at a hair salon without tangling your patron.
This brush makes professional hair straightening look easy. It is also dual voltage and lightweight making it a suitable travel companion.
Verdict
This cool looking hair straightener was pretty impressive for its heating performance and moderate straightening capabilities. The beauty in it is that you can run it through her many times without causing any damage but it's not necessary to make that many passes before you are impressed. The permeating 20 times a negative ion therapy is clearly observable when compared to other hair brushes of the same price range and it gives most hair types a soft voluminous look enhancing shine and eliminating frizz.
Even if you have hair damage and flyaway strands this brush is perfect for healthy eating and is probably worth the price.
Is this any good for frizzy and thick hair?
This straightening brush is great for normal hair types. If you have crazy thick curly hair then probably straightening brushes aren't good for your hair type.
How long does it take to straighten with this brush?
This brush is quite effective but with a hairbrush you probably have to go over the same sections of hair more than once which means you take longer than you would typically need for a flat iron.
What is the temperature range on rose gold brush?
The splash text a few seconds to get to 365 °F and tops out at 450 ° F.the highest temperature setting is not recommended as it may cause some level of damage to your tresses in the process.
How much does it weigh?
This brush is made of rose gold titanium plastic metal and rubber and weighs 1.8 lbs.
Is this hair straightening brush made in China?
No FoxyBae makes the rose gold hair straightening brush in the USA.