The CHI Lava Hair Dryer is an excellent new release by CHI that has been doing rounds on online shopping platforms with much hype for its exclusive features and immense power that guarantees dry and hydrated hair for every hair type. It gives hair conditioning and shines that can hardly be paralleled using the best dryers out there. A nice feature of the dryer is the Long life DC motor that gets the job done in a couple of minutes and still saves energy.
The device comes with an impressively compact design that speaks of fashion and still looks very comfortable to hold specific CHI products. As can be expected, the volcanic-inspired speed dryer comes with dark-themed color and eye-catching packaging you don't want to throw away.
Those who are sensitive about their carbon footprint then all the more reason to love this dryer and set out to investigate the zero-emissions claim by the manufacturer on this device. This our honest assessment of the Lava as it was shipped to us and according to feedback from experts who tested this on us.
Fernando Romero created CHI to stand out among the beauty and hair industry toolmakers, and their previous hair tools have been a good testimony of that. This hair dryer uses a complex Nano ionic mineral to break down water molecules, speeding up the drying process and helping keep hair hydrated and healthy.
PROS
Volcanic Lava Ceramic heater provides minor damage to the hair offering smooth, shiny results.
Volcanic and ceramic minerals are embedded into the honeycomb ceramic lava heater.
Volcanic ceramic minerals conduct negative ions automatically.
Lava ceramic ions smooth, reduce frizz and lock-in shine, providing moist heat for healthier hair.
Cold air temperature for setting styles.
Slide switch prevents from turning dryer off accidentally.
Energy saver up to 50%.
Ergonomic design.
Long-life DC motor.
Three locking attachments; smaller concentrated nozzle for precise airflow, smoothing nozzle, and diffuser.
The diffuser is designed to evenly disperse air at the root area for volume while helping to form curls.
11 ft. cord length.
CONS
Standard heat and airspeed control dials easy to confuse.
Expensive.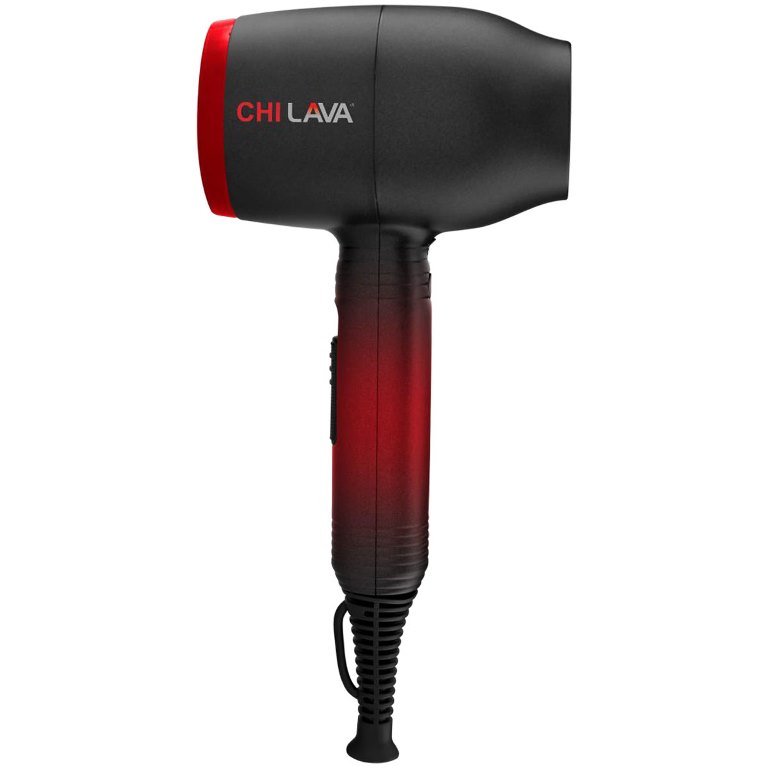 DESIGN
This dryer has a unique DC motor patented by CHI that provides immense power with minimal weight. This makes the machine very light and easy to maneuver without straining the wrist. When transitioning from a heavier dryer like the T3, it may take some time to get used to the lightweight operation of the Lava.
Natural volcanic minerals are used in the dryer to provide a complex infusion of goodness for your hair. The minerals equip the dryer with negative ions that split water molecules, dispersing them faster and forcing them into hair strands for maximum hydration. This feature, the makers' claim, enables faster styling and longevity of results even on humid days.
Micro-hydration is a benefit of the mineral infusion that fosters ultimate shine and condition even without flat iron styling. Unlike most hair tools, you do not have to sacrifice volume for more extraordinary shine with the mighty stream of the Lava.
It also features an ample 9ft cord which swivels to allow easy styling with no tangling. It weighs less than a pound and produces a more powerful jet than heavier motors. You can expect this to have quite some recoil when hitting your head, which takes some time to get accustomed to.
When you are concerned for your planet, then Zero emissions is a priority when buying your gadgets. This tool saves the earth by consuming up to 75% less energy than traditional hairdryers and does not emit ozone, carbon micro-particles, or EMF.
HEATING PROCESS
The famed CHI heaters using natural rock and minerals and other proprietary innovations change how the industry perceived heat treatments. If you feel that you have to change how you approach your hair routine, you know it is perhaps time to invest in a high-end toy for your hair from this world-renowned brand. People who required at least 20 minutes to do their hair now take under 7 minutes for a perfect blowout. Additionally, you do not always have to use your straightener as you can apply some natural conditioner right away after your shampoo.
PERFORMANCE
We took the CHI Lava for a spin and examined the results versus what the excellent influencer said on YouTube. We always strive to capture users' actual reactions as they are conveyed to us and find the median sentiment.
Firstly, the Lava is a severe piece of equipment with some intense user experience to be enjoyed. It leaves hair looking smooth and healthy because it does not cause dry and flaky results. More importantly, it protects your scalp and promotes healthy hair growth. Not having to blow hot air over your scalp for 20 minutes can make a world of difference.
The volcanic mineral infusion effect is visible in better shine and volume, leaving hair looking healthier than with other devices. There is a good range of products on the market claiming the same effect and carry an onboard ion generator, but the Lava uses natural rock to produce the negative ions.
We could not ascertain claims that negative ions boost your daytime energy. It goes something like negative ions is suitable for your body entering your bloodstream from this dryer's air streams. It increases your serotonin levels, giving your positive vibes and thereby boosting your mood and energy levels.
HAIR DAMAGE
The beauty of choosing to go with an expensive yet reliable maker and Brand like CHI is the peace of mind you have when trying this out for the first week on your hair. When you see your hairstylist next, usually you will not say a thing waiting to see if they note the difference, and sure enough, they complement and say you must have changed something. You are probably skeptical about the Ion-powered heating technology bits because they sound like sales gibberish. Still, you may buy for a trustworthy brand and discover that it works as advertised, much to your amusement.
VERDICT
In short, the CHI Lava is better than advertised. It helps to dry hair and micro-hydration. If you want the next level of power and still not scald your scalp, then this is the go-to technology for exceptional results blissfully. It is more powerful than any previous models and gets work done faster, saving energy and time. With zero emissions, you can enjoy cleaner indoor air quality during and after your hair routine. This is a perfect gift for a friend who just had a baby and wants to childproof the house because it is also quieter than anything else out there. It is not the cheapest hair dryer out here, not even by a long shot, but it will outlast three or four dryers, and there is an impressive 10-year warranty on the motor to back up the claims.
What is the CHI Lava Ultralight Speed Dryer Review?
The Lava is a professional-grade model with a classic Ferrari design and exclusive features for luxury hair solutions. It has six heat and speed settings for customization to hair type.
Who is this hair dryer best for?
CHI Lava is undoubtedly an exclusive deal because it is pretty expensive. But the stellar performance 10k hours guarantee on motor make this a good value for anyone willing to part with the hefty price and get perfect hair and healthy scalp in return.
Does Lava work on thick curly and frizzy hair?
If you have the above kinds of hair, you will likely struggle to get your hair dry after shampoo if you have a cheap dryer. The Lava will be perfect for you and cut down on strain and time when you need to blow dry your hair.
What is the Cold Shot of the BaByliss Pro Rapido?
Designers and engineers at BaByliss are some of the most innovative the world over, and their True Cold Shot feature will release instant and relieving cool air from the styler, making the heated styles stick.
Does the Lava use a brushless motor drive? What is the advantage?
Yes, the Lava runs on the brushless DC engine with 10000 hours of maximum power guarantee. Because of this dryer's brushless motor design, about 75% less energy is required to drive the same output compared to ordinary brushed motors. It is more sophisticated and with the minor wearing of parts hence the longevity of the engine.