We have all rushed through a morning routine and know what it is like to be let down by an archaic piece of junk that was supposed to get hair in some presentable form. Yet when it comes down to making the right choice, there is no shortage of obstacles in your path to the holy grail of all Hairdryers. Today we are going to take a close look at the rapid Hairdryer by BaBylissPro. By the end of this candid review you will understand the ups and downs of this costly piece and be in a position to give it some love or dollar investment.
Whether you are a hair professional or you are looking to improve your personal styling game, you need a BaByliss in your life. They don't come cheap but then neither does anything else worthy of repute. Their dryers like the BF7000 give off maximal power and performance without damaging your hair. If you need a compact and super light dryer then you have come to the right place for a candid review of the BaBylissPRO Rapido dryer.
We do these relentless hair dryer reviews to link our audience with the one prime hair dryer that was built for their pocket and hair type. It is the least we can do make the world a better place for hair lovers whose ripple effects are countless.
BaByliss Pro is a brand we regard with high esteem and it does know how to present the customer with an offer they cannot resist whether you are going for size, price point and useful features. It's a crowded market online for hair and beauty products but we are here proudly to review the products that matter for your convenience and begin to scratch the surface in decluttering the web.
The BaByliss Pro Rapido blow dryer is a high end dryer with extreme power and features for up to 50% faster drying and styling according to the maker. It comes with a noise reducing filter which is removable for some reason we are yet to understand and claims of a whooping 10k hours on the rapido engine model. We had to have this and check out the features that matter so that you too stay informed.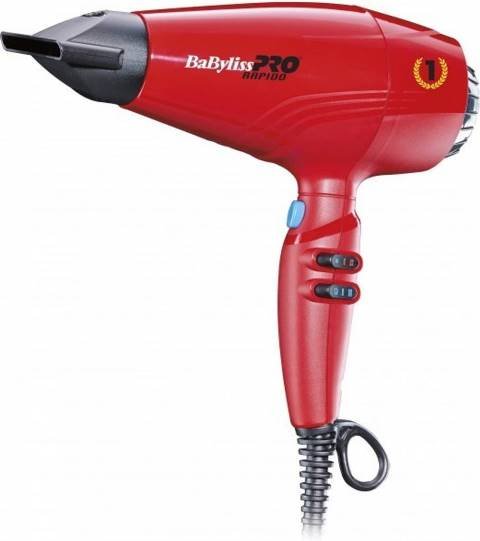 PROS
2200W Brushless Motor.
Very Light ergonomic design (less than One pound).
Ionic styling for frizz-free hair.
Ultra slim concentrator nozzle for precision.
Noise cancellation rear filter.
Free ergonomic pouch.
CONS
Expensive.
May produce smoke smell when new.
6 heat and speed settings may be confusing.
DESIGN
The Rapido has a cocky name for a hair dryer and even the shape of streamline suggests speed. It is designed to be two times faster than the competition and half as noisy. It packs a brushless motor design, the MaxLife PRO brushless engine which is rated for 10000 hours of operation and beyond. That is decades of styling even by salon standards and so you can almost count motor failure out when planning to take this one home unless there is some manufacturing defect or something which the warranty should take care of, so no worries.
Another striking feature of the Rapido is the super lightweight design which is its main selling point. It weighs significantly less than 1lb (400g), a strength when measured against heavier competitors of lower price range like the DryBar ButterCup Blow dryer which weighs about 1.2lbs.
They made The BF7000 based on Ionic Heating technology which counterbalances the natural positive charge of hair with negative ions to reduce static electricity and increase shine and retain styles that the user wants to lock in.
It features a cold shot button that locks in an immediate cool stream of air to solidify results achieved by heating up and styling hair. This cooling effects causes hair to retain the shape of curls and waves and last longer throughout the working day.
The motor on this dryer shares heritage with the Ferrari designed engines which are 40% lighter and much faster and reliable than the competition. The most notable advantage after the powerful stream of air is the silent hum of the motor which is nearly non-existent when you add the silencer.
HEATING PROCESS
Tucked away neatly inside the compact body of the Rapido is smooth running 2000 watt heater backed by a central ion generator generating millions of negative charges per cm3 of air passing through for static reduction and increases natural shine and volume of hair. Negative ions are functional for all hair types because our hair naturally generates positive charges when rubbed and will become unruly with static electricity unless we can pump in negative charges to balance. This phenomenon makes negative ion therapy a must have for all hair types.
PERFORMANCE
Weighing less than a pound is one thing that makes the BF7000 an easy to pick up and functional blow dryer but there is more to it than the super light motor. The moto is obviously a big plus for those that experience a hollow pain in the wrist after using a heavy piece for prolonged periods.
We also liked the modern and intuitive controls on this model which culminated in up to 6 settings unlike anything else on the market today. It is the most customizable to your needs and no wonder that it does not come cheap. Unfortunately, it is unlikely that you will need that many features not unless you are working on a number of clients as a hair professional.
Customization is further made easier with the three concentration nozzles included and they are more than any other maker is willing to give away with the purchase. There is a 60, 75 and 90 mm nozzle so that you can style at your pace and preference.
We had no way to verify the durability of the product but we trust the makers promise of 5000 hrs of full power operation without a decrease in quality of the output simply because they have been trustworthy before.
HAIR DAMAGE
Though not completely negligible, with proper use, the Rapido dryer will cause almost no harm to your hair and that goes for most if not all hair types. It has formidable heat capacity and blows like a torch if you want it to but then you have all these options to custom tune the dryer to your needs. Don't get it twisted because the dryer will cause serious damage when misused. This gives you reliability and comfort knowing that your hair is always safe when you do a blowout.
VERDICT
Features of BaBylissPRO BF7000 make it a top of the line product that is worth every penny. It does not come cheap but provides good balance of value for money. Get this dryer if you are looking to up your game with conditioning and frizz-free styling with less nuances from the vibration and noise of cheaper models. it is efficient at drying and styling and will not be a waste of your time and money. It is one of the best gifts you can get yourself or someone you love this season and a promise of salon-grad blw dry without hesitation or fear.
Take advantage of offers to give your hair a boost with ionic technology that helps lock down the moisture in your strands and gives them revitalizing conditioning for healthier and shinier results. It is light, fast and super reliable, everything you want in a travel kit blow dryer.
What is the BaByliss Pro Rapido Ultralight Speed Dryer Review?
The Rapido is a professional grade model with classic Ferrari design and exclusive features for luxury hair solutions. It has 6 heat and speed settings for customization to hair type.
Who is this hair dryer best for?
This is certainly an exclusive deal because it is quite expensive. But the stellar performance 10k hours guarantee on motor make this a good deal for anyone willing to part with the hefty price and get perfect hair and healthy scalp in return.
Does Rapido work on thick curly and frizzy hair?
If you have the above kinds of hair then you are likely struggling to get your hair dry after shampoo if you have a cheap dryer. The Rapido will be perfect for you and will cut down on strain and time when you need to blow dry your hair.
What is the Cold Shot of the BaByliss Pro Rapido?
Designers and engineers at BaByliss are some of the most innovative the world over and their True Cold Shot feature will release instant and relieving cool air from the styler making the heated styles stick.
Does the Rapido use a brushless motor drive? What is the advantage?
Yes the Rapido runs on the brushless MaxLife engine with 10000 hours of maximum power guarantee. Because of the brushless motor design used for this dryer, about 75% less energy is required to drive the same output compared to ordinary brushed motors. It is more sophisticated and with less wearing of parts hence the longevity of motor.