Getting a hair makeover is one approach to changing your appearance. You may be wondering if you have a round face. The smooth, equal-sized cheeks distinguish the chubby face. When compared to other portions of your face, the center of your face is wider. Many female celebrities have round faces, like Emma Stone, Lupita Nyong'o, Gigi Hadid, and Gemma Chan, to mention a few. Compare your face to theirs if you're still not sure if it's round.
You must acquire the proper hairstyle if you have a round face because a haircut can either make your face chubbier or slimmer. Always ensure that you have enough volume in your crown to lengthen your face. Short, long, and medium-length hair is all appropriate for a round face, as long as your hair type and facial tone are taken into consideration. They will add height to your general appearance. Add bangs to your hair; they can be side-swept or blunt, and they will soften your look.
If you prefer long haircuts then go for a shaggy and layered cut. Style your hair to either fall on the sides of your face so that it does not reveal too much of your cheeks.
1. Medium Length Hair with Waves
Get this stunning new style and flaunt it! This exquisite style will draw attention away from your fat face and toward your stunning haircut. This hairstyle is distinguished by shoulder-length brown hair with darker roots. The strands are separated in the middle and cover a portion of your cheeks, giving them a thin appearance. It contains flowing waves at the tips of the locks, which give your strands texture.
2. Curly Updo
Curly hair complements round faces since the lovely curls soften the appearance. This hairdo will undoubtedly draw attention away from your broad face and toward this gorgeous makeover. It's a perfect summer style because the hair is kept away from your face to keep the heat at bay while still looking lovely. The soft and delicate curls in an updo are the distinctive features of this haircut. Maintain your style with hair products like spray to make it last longer.
3. Inverted Bob
Do you want to try a new hairdo to break up the monotony? This is an excellent alternative. The distinguishing feature of this style is shiny, straight black hair styled into an inverted bob. To achieve this haircut, part your hair in the center and tuck the front strands behind your ear. Hair should be styled to outline your face and give the impression that it is slimmer. This style is easy to maintain if your hair is naturally straight.
4. Bob with Bangs
Side-swept bangs add interest to a standard bob. A bob with bangs is a versatile haircut since it allows you to arrange it in any way you choose. Make waves at the ends of your strands if you want to get this look. To create the illusion of volume, the tips of the hair should be bluntly trimmed. The bangs should fall just over your left eye and cover a portion of your forehead.
5. Volumized Bob with Bangs
A round face requires a medium bob with texture. The bob is composed of stacked layers of hair that give it volume. It has fringes on both sides and is collarbone length. Fringes that are mid-chin length hide a portion of your eyes. This style will slim your face thanks to the side bangs and hair that frames your face.
6. Soft Glam Look
For your next function or even formal occasions, create an elegant style. Long golden hair parted on the side with free-flowing waves that stop at the shoulder is the secret to this haircut. Hair on one side of the face frames the side of the face, making it appear longer. This is a very versatile and comfy style that can be worn with any outfit.
7. Shaggy Lob
If you're a busy lady who wants a customized look, this is the haircut to go with. Long bob does wonders to round bob and gives it an added length. It is one of the simplest to create. The hair around the chin appeared to be unkempt. This style is not exclusive to curly hair; it may also be worn by people with straight hair. To achieve the lovely waves seen in this model, all you need is a curling iron.
8. Long Waves with fringes
Long waves suit chubby faces the finest. The strands fall loosely below the chin, creating the illusion of a longer face. This hairstyle has layered wispy bangs, golden hair, and waves. The stylist divides the fringes in the middle and sweeps them to the side, ending at the side of the eyes. As a result, the style is suited to those who desire their hair to remain long. It works well with medium-length hair as well.
9. Curly Pixie Cut
Ladies with naturally thick and curly hair, this is your chance to shine. This short pixie will bring out the most in your thick hair and curls. If you have thin hair, though, you can still get a pixie cut but add layers to the top of your head to make it appear fuller. Straight hair can be curled as well. Those with curly hair will find it simple to style every morning, so simple that they can even use their fingers.
10. Short Wavy bob
A short, wavy bob, like Miranda Kerr's, will flatter your round face. This bob features waves and layers for more volume. To achieve this look, make sure your hair goes below the chin and hides your cheekbones. To achieve this look, add a few subtle curls here and there. This bob's length is ideal for balancing the shape of your face. Make your hair asymmetrical and your left ear visible by styling it in this way.
11. Shoulder Length Lob with Side Bangs
Side bangs may spruce up a lob and highlight the cheekbones. This shoulder-length haircut is easy to manage and has an appealing appearance. The major elements of this hairstyle are highlights and a peek at a boo fringe. The texture on the inside was created through slice cutting rather than layering. The lengthy front fringes add variety to the lob while highlighting the oval face shape. The side-swept lob cut is a classic style that flatters round faces.
12. Thick Long Curly style
The majority of women yearn after thick hair. If you have thick hair, consider yourself fortunate. This style is best for people who like to maintain their hair long and have thick strands. This model has long, textured, partitioned hair with a long side fringe and curls that start at the mid-chin. The curls are so thick that they can't be overlooked. Straight hair covers the top of the head. The combination of a straight mane with curls creates a classy and elegant look.
13. Straight Layered Lob
A broad, spread-out face is pleasing, if not attractive. Blondes would blend in so nicely with a woman with a prominent chin and large eyes that they would produce an extraordinary fusion of looks. This free-flowing mane wiggles up to your upper shoulders and complements the bulges on your high cheekbones perfectly. To get Emma Stone's look, part your hair and add alongside fringe that covers one side of your face to chin.
14. Side-swept Blonde Bob
The locks around your mid-head should be blonde to recreate this look. On the other hand, the top should not be dyed. Before you begin the design process, prepare your hair by layering it. On the left side of your head, style a large number of your hair strands. Because curls are such an important component of this look, clip the hair edges on both sides of the face before creating curls. Make sure your curls are evenly distributed across your head.
15. Long and Wavy Brown Haircut
If you like waves, this is a style you should pursue. Another intriguing option is light waves, which nicely frame a large face while visibly reducing its size. The main thing to remember with this model is that it should not be overdone; the curls should be large and barely perceptible. A large number of small curls or waves that are overly obvious can simply widen your face. Make sure there are no stray strands under your chin or on either side of your face.
16. Straight Blonde Hair
Are you sick of your long hair and want to take a risk and cut some of it off? Get this style in a medium length. To make your haircut look visually attractive and sexy, cut it in a medium-length style. This style is classy and unusual due to the central division and hair covering both ears. For ladies with fat features, alternatives to really long hair may be improper. If you have long hair, it will make your face appear larger.
17. Asymmetrical Shaggy Bob
Jennifer Lawrence is undoubtedly someone to look up to if you're looking for round-faced styling inspiration. With her blonde asymmetrical bob that draws emphasis to her eyes, she pulled it off beautifully. The key to this look is shaggy waves with a side part, which are ideal for hiding the face's structure. Because the hair on the left side is tucked behind the ear, the uneven bob will let you show off your gorgeous earrings.
18. Chignon pixie hairstyle
A half-up style is a quick and easy way to achieve elegant hair. Your overall style will seem instantly chic whether you pull your hair straight back or keep your customary part. To create a style like this, you must dye hair at the top of your head black and the rest golden blonde. Style one piece of the curls to the left side and the other to the left. This style will keep hair away from your face save hair that will fall on your left side. The layering at the top will lengthen your face.
19. A-Line Bob
The advancement of hair from the back to the front is referred to as an A-line bob. Although the rear is normally shorter than the front, the difference does not have to be noticeable. The long bob is an undeniably fashionable hairdo. The hair is black with pale highlights, gentle curls, and is parted to the side with a long side fringe that surrounds the face in this style.
20. Deep side parted square haircut
Do you have fine hair and wish to give it a little oomph? The proper way to do so is to add layers to your haircut so that it appears to have thickness even without straining. The blonde color goes well with this style and will help it stand out in a crowd. Your hair should fall at the sides of your face, and the side fringes will hide part of your forehead and cheeks.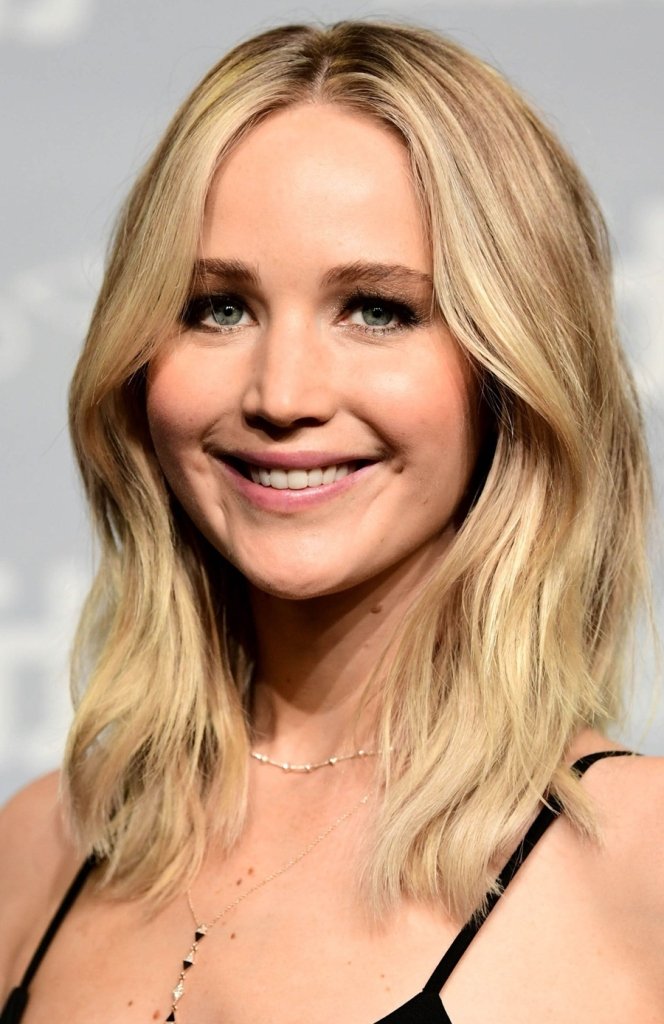 Conclusion
When choosing a style for a round face, you must be quite attentive. A style that is ideal for a round face takes some of the weight off your plump face rather than emphasizing it.
Take a style that piques your attention to your stylist so he or she may recommend it, determine if it's perfect for you, and adapt it to your preferences. Apart from your face shape, you need also to consider your hair type and facial tone. If you think about them, you may rest convinced that your hairstyle will be impressive.
If you have a job, choose a haircut that will require little effort to style daily. If you have a one-time function to attend, you can go for a more refined look. If you want to be cost-effective and time-conscious, getting a hairdo that matches your attire is a fantastic choice.