Being a pale girl may be difficult, as I have seen myself. Finding the perfect hair color for your skin tone, on the other hand, doesn't have to be complicated! The good news is that there are a variety of hair color options for light skin that will look great with your porcelain complexion.
We'll show you how to determine the ideal color for your skin tone, as well as 15 hair color choices for pale complexion that you can try right now. Keep scrolling to learn everything you need to know about going blonde, brunette, or into dream shades.
1. Black To Brown Ombre Hair
Start your brown ombre hair a little further away from your roots. You may preserve your natural hair color at the roots and avoid having to bother about color touch-ups this way. Pay special attention to your tips if you have lengthy ombre hair. They tend to dry out faster than the rest of your hair, especially if it's colored.
2. Ashy Brown Hair With Face-Framing Blonde Highlights
Keep your dark roots while using face-framing highlights to effectively brighten your face. This trendy look is also low-maintenance, so you can go weeks without having to schedule a touch-up. Try a medium ashy brown tone on fair complexion with hazel or blue eyes. The ash hue has similar features to platinum or ash blonde, and it's a great match for cool complexion tones with pink or red undertones. If you want to get an ashy brown color, make sure you or your stylist uses a toner to lighten the brown color's rich tones. The ashy brown color is really popular right now, but it looks best on those who have fair complexion.
3. Silvery Bronde
Bronde hair is usually a fantastic choice for people who are torn between keeping true to their brown heritage and wanting to go blonde. You may experience some brassiness if you brighten your natural brown tone to get bronde hair. Fortunately, pale skinned people have a wide range of hair color options. Any color can be adapted to light skin as long as the undertones are complemented, and fair skin can often work as a neutral background for a variety of colors. There are more contemporary color options than ever before, with tones ranging from platinum blonde to red, ashy brown, and espresso, and the possibilities are unlimited!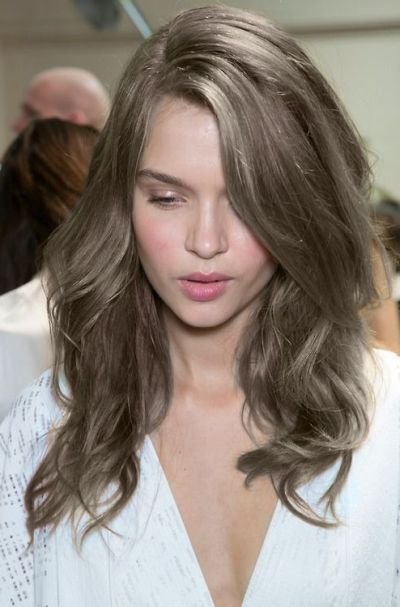 4. Brown Ombre Hair
Choosing the best color palette for your base and accents is crucial to a successful ombre. For pale complexion, use light and pastel ombre hair colors, while for olive skin, choose a dark foundation with a light brown ombre hair color. If you have curls, don't use a blow dryer or a round brush to dry your hair; instead, let it air dry. The waves will naturally split in this way, and your highlights will be more noticeable.
5. Espresso
Take your looks to another end of the visible color spectrum with a true black or espresso shade if you want hair colors for light complexion that aren't blonde. For individuals with cool-toned skin, the appearance may be too strong, but it's perfect for people with warmer or more olive-toned complexion. The contrast gives skin a porcelain-like appearance and complements green eyes nicely.
6. Chocolate Brown Ombre
Start your brown ombre hair a little further away from your roots. You may retain your natural hair color at the roots and avoid having to bother about color touch-ups this way. Pay special care to your tips if you have lengthy ombre hair. They tend to dry out faster than the rest of your hair, especially if it's dyed.
7. Burgundy Hair For Beautiful Pale Skin
A deep burgundy hair color may contrast nicely with light complexion, much as a rich espresso does. A burgundy plum is a wonderful light complexion hair choice if your skin is olive and especially if your eyes are green. There is some care necessary, as with any dye job, to avoid a brassy fade, but it's worth it if you're able to keep up with your burgundy hair! If light auburn is too neutral for you, you might want to experiment with the darker end of the red color range. Burgundy is a dark and strong red color. You can't go wrong with burgundy hair colors since they go with every hue of fair complexion.
8. Brown Hair For Blue Eyes And Tan Skin
Blue eyes and cold skin may seem like an unusual combination (remember the genetic mutation), but the world is full of surprises. And if you're one of them, why not make the most of it by using striking contrasts? Beige tones blend well with blonde hair, blue eyes, and dark complexion that is on the cooler side of the spectrum. If you leave your roots a few of shades lower to better match your skin, it will seem more natural. When it comes to brunette hues, mocha is our favorite.
9. Warm Ginger With Golden Highlights
Warm skin tones are indicated by green veins on the wrist when exposed to the sun. Warm skin tones with a yellow undertone go nicely with cinnamon, ginger, copper colors, and certain mild shades of red. Warm skin tones with golden undertones complement deep brown hair hues. Base colors can be rich hues. Mahogany, chestnut, auburn, and deeper browns are among them. The key to working with warm skin tones is to use complementary hues. Avoid blacks, ash blonds, browns, and hues with blue or violet undertones since they don't compliment green eyes well. Rose Bertram and Tyra Banks are two celebrities with warm hair that complements their eyes.
10. Honey Brown Balayage With Dark Roots
When considering brown hair colors to try, consider honey. This warm medium brown hue works well with a variety of complexion tones. Honey hair color includes a touch of orange, making it ideal for the summer when you want to flaunt your sun-kissed radiance.
11. Caramel Brown Hair For White Skin
Your face will glow with a warm light if you have caramel brown hair. Dennie Ramon contributed to this article. This medium brown hue offers you a new, updated style while adding warmth to your face. Caramel brown can be used as a highlight or as a new hair color.
12. Honey Blonde For Cool Skin Tone With Green Eyes
The ideal hair color for green-eyed ladies with cold skin tones, like Amanda Seyfried, is strong colors. Blonde, brown, and red tones are among them. The highlighters are the emphasis for ladies with cool skin tones. Taupe and ash are two highlighters to consider. Along with the primary hue chosen as the basis, honey shades create a lovely subtle contrast. The objective with cool skin tones is to bring down the blue-red undertones for the optimum hair color for green eyes. Black, gold, caramel, honey, and any orange-based hues should be avoided.
13. Medium To Light Brown Blond
The correct shade of blonde is the ideal match for your white complexion and hazel eyes. I recommend going with a light blonde hue since it will enhance your appearance. If your eyes are hazel and your skin is fair, medium champagne hair is appropriate. The green and blue hues in medium champagne hair will contrast with the skin's pink undertone. Your light warm complexion and hazel eyes look great with a yellow blonde or anything in the golden blonde hair category. You're okay to go as long as you keep your hair toned to avoid brass from sneaking into your hair color. Ivory complexion and hazel eyes look well together, and any hair color from light blonde to dark brown may bring out their best features.
14. Dirty Brown Hair For Hazel And Brown Eyes
Unlike other browns, which have rich, warm tones, this one contains cold tones that help to balance out your rosiness. This color looks fantastic with hazel and brown eyes and warm white skin.
15. Deep Brunette
This dark hue is dark enough to compliment your face's red undertones without producing an unattractive contrast with your pale complexion. This hue looks great with any eye color, but it looks especially stunning with blue eyes. If becoming a brunette has been a dream of yours we hope that you find the right kind of inspiration from this piece.
Although having pale skin is attractive, it is not always simple. You must remember to protect your skin from the sun at all times, and you must also choose the correct hues and tints to suit your pale skin tone.
Fortunately, there are a plethora of hair colors for light complexion to select from, so choosing your next hair appointment shouldn't be difficult. It ought to be a lot of fun and excitement! All the best.