For round faces, the ideal hair length is medium. Bangs and layered hair can be used to frame the face. When correctly groomed, these chubby face medium-length haircuts are adaptable and enjoyable and can be worn with virtually any hair texture. These hairstyles are intended to be more appealing to a round face by lengthening it and framing crucial regions. Women with round features tend to have sweeping hairlines, a smaller chin, and a short neck. You'll also observe that they have roundness beneath their cheeks.
Knowing your face shape is essential for selecting a pleasing haircut. Whether or whether a haircut flatters your face may make a significant impact on your overall appearance. The proper style will balance your proportions, highlight your best facial features, and make you appear more attractive. While many women with round features believe that their hairstyle options are restricted, this is not the truth – there is a vast range of styles below that you may flaunt that will make you look beautiful!
1. Medium Wavy Haircut
It is difficult to choose a haircut and hairstyle for round faces but this hairstyle will make all that go away. When paired with a medium wavy haircut, a face with a narrow chin, a noticeable jawline, and a somewhat larger face will look awesome. The wavy hair and which somehow wriggles outwards will complement your larger face shape. Furthermore, take the maximum length of the hair to be the upper shoulders, and let them rest like a bird perched on a branch.
2. Blonde Wavy Mid Length Hair
This is a great haircut for anyone looking for a simple look that doesn't sacrifice style or flair. This hairstyle is just wavy hair, and it is extremely simple to do using curlers. It's worth noting that the hair hasn't been chopped in sections or anything and that the straight locks of hair have just been curled nicely to give an overall wavy impression. The length of the hair also falls a bit lower than the chin, making it ideal for emphasizing the jawline.
3. Medium Hair With Soft Waves
If you want to complement your round face this is the best hairstyle for you. Style the middle part of the hair by parting the hair to give your face a perfect balance. The layers that are used to frame the face will look better in you when waves are added to the hair, for they will provide a voluminous edge to the hair. This hairstyle has the advantage of transiting the hair from short to long hairstyles. This hairstyle is perfect for round-faced who want to look amazing with voluminous hair.
4. Straight Hair
Straight hair is far more versatile than it appears. Straight hair is elegant, attractive, and simple to style. This style works best with clean, healthy hair, so you may want to start with treatment. Wash your hair properly and apply heat protection spray on it. Blow-dry your hair in tiny parts using a broad flat brush. Pull your hair down, flattening it at all times. Straighten your hair using a comb after straightening it with an iron, and make sure your tongs are on a low heat setting because burnt hair can cause frizz.
5. Round Face Bob Haircut
This is a simple hairstyle that would look well on someone with chin-length hair and a round face. To achieve a more defined look, wear a wide-brimmed hat with long bangs and use a wide-toothed comb. By combing some hair over your cheekbones, you may give an unusual texture. This hairstyle provides your short hair and round face with a distinctive and elegant appeal. It should be well-coordinated and flattering to your general facial shape. You may dress it up with jewelry to make it appear more attractive.
6. Medium Length Angled Bob
An angled bob is a forward haircut that is shorter in the back and progressively becomes longer in the front, creating an angled look. Isn't it rather straightforward? This haircut has a well-aligned base. the end peaks give lightness to the cut that is medium to the found faces. It is suitable for a wide range of hair types and offers a plethora of style possibilities. Despite being one of the most fashionable hairstyles, there are several ways you can put a unique spin on this newly discovered classic.
7. Angled Bob With Light Brown Highlights
Seasons vary, but bobs are considered stylish and cool hairstyles that don't require much thought. They are feminine and can be customized to fit any face shape and characteristics. Especially when it comes to inverted bobs! An inverted bob is a hairstyle that is longer in the front and shorter in the rear. It may add volume and dimension to your hair, create a beautiful geometric form, extend or expand your face if desired, and attract attention away from your rounder face depending on how you style it.
8. Long Straight Hairstyle
hairstyles for long straight hair look stunning when worn smooth and healthy. Add beautiful layers, side bangs, subtle texture, or draw it back into a breathtaking updo to your long, straight hair to take it to the next level. Even a minor alteration to your straight locks might transform them from mundane to interesting. You can go with a dark hairstyle and make sure you center part of the hair to achieve the best style.
9. Shaggy Bob
You will be rocking your asymmetrical bob, which pulls the gaze downward. This bob, styled with shaggy waves and a side split, performs wonders to balance off the round facial structure. Many people enjoy the shaggy bob style because it is the pinnacle of low maintenance. The shag bob comes alive with all the movement that texture and layers bring with only a few style products and fewer wash days. Textured bob is the way to go.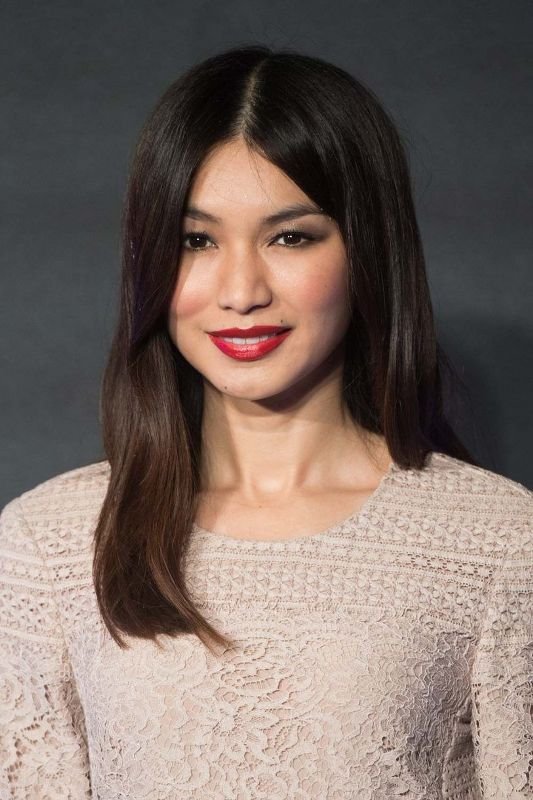 10. Deep Side Part
A deep side part differs from a typical side-swept bang in that it begins considerably more to the side. Instead of letting your hair split naturally, make a deeper divide about a half-inch to the side of where your hair typically parts. The middle parts are nice, but nothing beats a deep side part for hugging round faces in all the right places.
11. Long Wavy Chocolate Hairstyle
Only slight layers cut along the sides and back enable natural wave movement from the mid-lengths to the ends. This easy style is best suited for people who have a natural kink in their hair and will require frequent trims to avoid broken ends. You can achieve this haircut by scissor cut, it's a casual hairstyle that is meant for medium or thick hair with fine to medium texture. Anyone who wants a change will never go wrong with this hairstyle.
12. Mixed Layers For Round Faces
A haircut with regular layers of varying lengths is ideal for fat cheeks. Some of them may be brief, while the remainder may remain long. In nature, the smallest strands might be chin-length. It is ideal for both straight and curly hair. Leave them free and discover how well they complement as an amazing fat face hairdo. If you are a party type, this hairdo is for you just make sure they are medium length. It fits all age groups and can be worn in winter and autumn.
13. Long Bob
A long bob, often known as a lob, is one of the most appealing haircuts for women with round faces. Unlike short bobs, which may make your face look fuller, lobs, because of their added length, can shrink the appearance of your face. One thing to take into consideration is that all lobs don't need to be wavy to be attractive. When coupled with an on-trend blunt cut, along straight bob haircut will look so basic yet attractive.
14. Blonde Shoulder Length Hair
Textured light waves are a fantastic choice for your shoulder-length blonde hair. The look has a lovely, just-off-the-beach vibe that's ideal for the summer months. Add some deeper lowlights to the haircut to give it a more relaxed, lived-in look. Furthermore, the procedure adds depth to blonde hair. This hairstyle conceals the cheekbones, making it ideal for someone with a round face. To style the hair, just separate the hair at the middle to ensure that the style is achieved, and the cheeks your cheeks, and ears are covered.
15. Wavy Mid-Length Shag
Mid-length hair isn't always a negative thing. It may be styled curled and looks great on all hair types. The nicest thing about this length is that you can finally replicate one of the much-discussed popular medium shag haircuts. In seconds, a shag looks effortlessly gorgeous! In addition, if you are too hot or just don't want to wear it down, your hair is long enough to put up. To narrow your facial shape, you should extend the front area before producing a wavy or chaotic style.
Conclusion
There are so many medium hairstyles and haircuts for round faces but not all of them will perfectly suit you. Having gone through the list above, it is an obvious thing that you have fallen in love with one or more of those hairstyles. One thing you should do, before you get your new stunning look is to make sure you use the right hair products for your hair. This will ensure growth and good health for your hair. The second thing is to get the best hairstylist out there, all the best as you get your new look.