Sharp lines, undercuts, and vivid colors are all hallmarks of edgy haircuts. If you want to show off your rebellious side, these haircuts and colors are for you. Simply venture out of your comfort zone and attempt some edgier haircuts.
Pixie is the most popular short haircut for women. Its poetic name is reminiscent of forest elves, fairies, and goblins. The cute and vibrant look of the pixie haircut is created through a special technique that involves cutting the hair shorter at the temples and nape and leaving longer tresses at the crown. The pixie haircut is widely believed to only flatter women who have elegant, long, and somewhat angular faces with distinctive large facial features.
Pixie is one of the easiest haircuts to care for. You can create completely different pixie styles depending on the occasion and your preferences, from stylish and elegant hairstyles to rebellious and funky hairstyles. The easiest way to style the pixie is to straighten your locks with a little wax or gently curl them with gel for a classy, tousled touch. After that, make sure to define the feathers every now and then.
Short hairstyles for oval faces are very attractive because they emphasize your features and highlight the contour of your face. We've compiled a fantastic collection of 15 adorable short hairstyles that will look great on your round face.
1. Asymmetrical pixie cut
Asymmetrical cuts are popular among women of all ages. The good news is that this cute pixie haircut can also flatter round faces with smooth features. It is frequently used to enhance the natural beauty of oval-shaped faces. To obtain this appearance, trim the hair strands on the back and one side short and leave the hair on the top long to achieve an asymmetrical length. Highlights and side sweeping bangs that cover a portion of one eye might be added to the look.
2. Long Blonde Pixie with Root Fade
This style is great with fine hair. Cut your fine hair into a charming pixie and use your favorite blonde to highlight the outer layer. Make your highlights thick and choppy to allow more of your natural color to show through, adding depth and thickness to your look. To make your hairdo attractive, leave the roots darker. You'll need shampoo, conditioner, and a mask to keep it looking good.
3. Long Tapered Pixie with Messy Crown
Short hair with layers is a good choice if you want something adorable and easy to maintain. It's a very sophisticated length that's easy to dress daily, especially with a side-swept fringe. With a towering and teased crown, you can compensate for your lack of length. Pixie cuts can be lovely, but they can also be edgy when you mess around with color and angles. A tapered cut gives the style sharp and clean lines, making it strong and daring, while high-contrast colors add to the impact.
4. Layered Pixie with Side Bangs
Go all out with the bangs. They're adjustable since they can be worn with any hairstyle. This style will make you appear energetic and edgy. This fantastic style features short hair on one side and layered hair on the other. Layers will give your hair structure. This pixie cut is seductive and one-of-a-kind. Face forms such as round and diamond, as well as straight hair, are favored by this look.
5. Fun Feathered Pixie Bob
Feathered Pixie-Bob is a fantastic cut. A tapered design with longer uneven layers throughout offers a casual style for a playful girl. Being short on the sides does not imply that your face would appear wider. The shorter length makes it simple to add volume to the crown, lengthening your face. The top of the head is unkempt, with feathery waves, giving you a sloppy but stylish look.
6. Urban Chic Cut for Round Face
With pixie cuts for round features, you can go as urban and trendy as you desire. The major qualities of this haircut are silver-blonde hair with short hair on one side and long hair on the other. The shorter side is black, and the combination of the two colors will make you look edgy and difficult to overlook. For a distinctive style, pair short contrasting sides with a deep side sweep.
7. Pixie Cut with Long Side-swept Fringe
Tired of long locks and would wish to try short hairstyles? Then this is the right style for you. This pixie cut is a statement-making haircut that will surely be envied by everyone. Wear it with a long side-swept fringe that exudes confidence and demands attention when you walk by. The fringe can be customized to any style you want depending on the occasion and your preferences. Add layers with the crown having more layers so that it gives a lengthening effect to your face.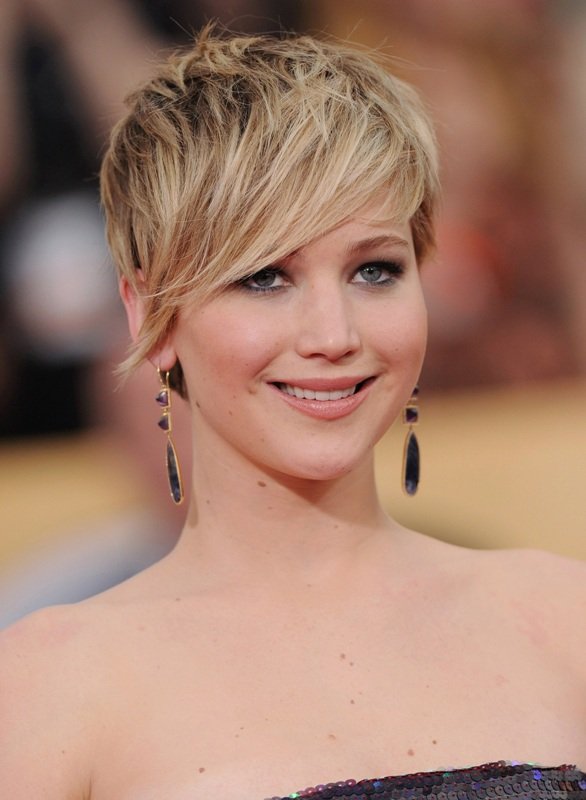 8. Long Pixie Cut for Round face
It can be difficult to figure out how to comb and part your hair if you have never had a pixie cut before. To begin, try combing it forward without splitting it to see how you can arrange it. You can style it in any way you like so long as t fits you perfectly. A pixie cut is extremely empowering. Every morning, you don't need to spend more than five or ten minutes styling your hair.
9. Short Stacked Pixie-bob
Try a hairstyle that combines a bob and a pixie cut. Short hairstyles are trendy due to their ease of upkeep, but that does not mean you have to stick to a standard look. Make a statement with this style, which combines a blond pixie chop with side-swept bangs that conceal one eye and give you a seductive look. Bob's flaw is that he hides your ears, making it impossible to show off your ear adornments. Cut your hair short on one side to solve this problem.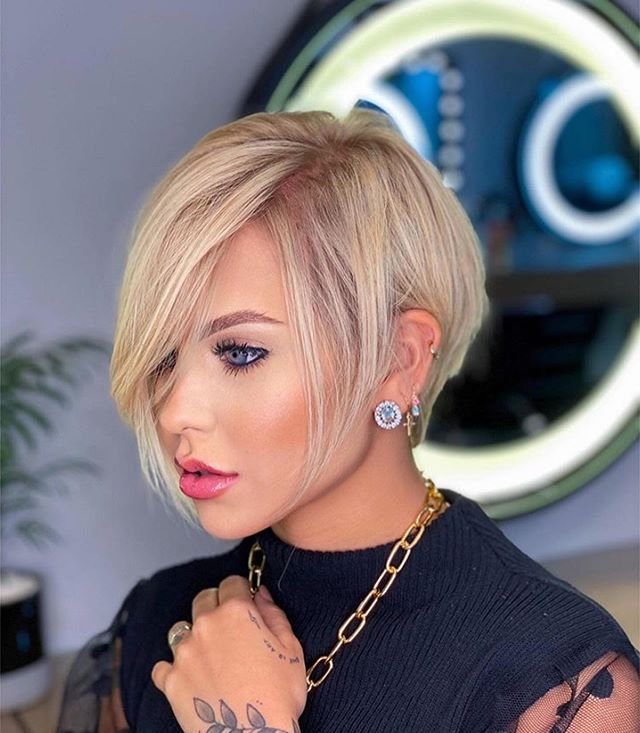 10. Short Wavy Pixie Cut
This hairstyle is ideal for women with naturally wavy styles. For some on seeking an easy way to style their wavy hair or curls then look at this pixie cut. Add quick wavy bangs that fall halfway on your forehead and keep short the locks on the other side, so that it gives a clear view of your pretty face. Wear this style with hair of a blonde shade with darker roots.
11. The Wrap
Razor buzzers were the first to create this look. Stylists have created variations of this look over time. Side-swept bangs can be added to a pixie cut to make it more interesting. Your face will be free with side-swept bangs, allowing you to show off your round face. The hair on top of the head is left longer, waved into a rising bouffant, while the sides and back are kept short. When this style is messy, it looks much better.
12. Short Bob with Undercut
An undercut is achieved by cutting the hair at the back or sides of your and the top hair are left such that it covers the cut part. When you have Less hair, it equates to easy maintenance. Your daily routine will then be less tedious. The undercut at the temple will make your face appear thinner.
13. Short And Layered Shag for Thick Hair
If you have thick hair, then use it to your advantage and get a layered shag cut like this one. This style does not require you to cut your hair very short. Style your hair with layers at the top of your head. This style is easy to manage as you can style it by passing your fingers through it. Maintain it with shampoo and conditioner.
14. Layered Pixie with Bangs
Rock with this style that features, blond pixie cut with side-swept bangs. The locks at the back and sides are short and the top of the head is kept long such that it will give you an elongated look to your chubby face. You can also add highlights.
15. Layered Bob
To achieve a style like this, shave the hair on the side and back of your face and leave the hair at the crown. The top of the hair is layered. This is done to make your face look long. This style ensures that there is no hair falling on your face except the bangs so that your face can be appreciated.
CONCLUSION
A round face is said to be the most attractive. As a result, girls with round faces should always strive to make their faces appear thinner and longer. This can be done by maintaining the volume at the top of the head.
In addition, short hair with layers is a good choice if you want something adorable and easy to maintain. It's a very sophisticated length that's easy to dress daily, especially with a side-swept fringe. With a towering and teased crown, you can compensate for your lack of length.