As you progress in life, your haircut must have a lift around your face and mobility. Layers and clipped or choppy edges make this simple. Heavy, harsh cuts, geometrical lines or forms, and geometrical lines or shapes can contour a face, but they aren't for everyone. You run the danger of seeming severe or emphasizing shadows, creases, or wrinkles. Avoid over-processed ends and excessive hairspray use. This adds years to your appearance. Aside from a new haircut, chances are you should reevaluate your hair color.
Most women prefer brighter colors as they become older. This is logical, given that they may make you seem younger and cover up gray hairs. If your foundation is too light for your skin tone, you may appear washed out. You may need to use a darker foundation and add caramel or golden highlights around your face. Highlights always brighten your skin and make you seem fashionable. Narrowing to highlights below are some of the hairstyles with highlights that will make you look incredible even at over 50.
1. Defined Ringlets Hairstyle
If you don't have curly hair, you may try the defined ringlets haircut, a popular short hairstyle for women over 50. After a shower, use a foam roller to naturally produce curly ringlets. It is one of those high-maintenance haircuts, so keep that in mind before deciding on this specific style for you. Having naturally curly hair is a privilege; if you have it, take care of it. You may retain this hairstyle for a long time but make sure you style it by adding blonde highlights to make them look classy.
2. Silver Hair With Blue And Pink Highlights
This silver haircut is short and sassy, and it will suit any fun personality. This adds volume to thin hair while also providing a solution for curly-haired ladies. The more you choose a silver tone over a flat, matte gray, the shinier and younger your hair will appear. When experimenting with gray hair colors, don't be scared to go bold by adding blue and pink highlights to the hair. This is among the most styled hairstyles for women over 50 years of age that will automatically make them appear younger.
3. Sophisticated Pixie Cut With Blonde Highlights
Contrary to common perception, pixie haircuts for women over 50 appear contemporary and attractive. You need to select your ideal short crop and maintain it fashionable with the right product. To appear considerably younger than your age, you must match your new haircut to your facial shape. Because this combination is young and simple to style, a tousled top and a tapered back are the cornerstones of short pixie haircuts for women. The lengthy, silver-gray accents can complement your frames in color and help you create a fashion statement.
4. Neutral Gold-Blonde Hairstyle
Think again if you felt your beauty days were over! There are no hard and fast rules on how you should wear your hair these days. Although designers employ young models to demonstrate the current hairstyles, this does not imply that only beautiful young ladies may wear them! This stunning long balayage highlight bob with a bendy wave and textured tips is a flattering look that will zhuzh-up lank, dark-blonde hair, erasing years from your appearance!
5. Simple Short Blunt With Hazel And Turquoise Color
Your hair naturally grays as you age. And it gives you a mature appearance while also giving you a good impression. Women nowadays use different hues and highlights to hide their gray hair. Giving your hair color a completely new look is a difficult task, but in this case, the color may entirely alter you. Try this hazel gray hue with turquoise streaks in the front part to stand out from the crowd. Blow drying or ironing your hair can give you a tidy look.
6. Short Salt And Pepper Hairstyle
Short haircuts for salt and pepper hair may change your attitude and self-confidence at a time when you need it the most. The truth is that short haircuts for salt and pepper hair are highly beneficial since they may enhance your outstanding skin qualities while drawing attention away from your weaker aspects. These are the most popular hairdos and hairstyles worldwide that are known for their simplicity yet stunning appearance.
7. Side-Parted-Blonde-Waves
Highlight your face with buttery blonde highlights to give your skin an immediate shine. Blonde is the perfect color for individuals who want to experiment with lighter tones without committing to dyeing their entire head of hair. Highlights will brighten your eyes, and the hue will continue from your lash line. The hair is styled using some waves, and the roots of the hair are maintained at a dark color and give the hair a beautiful hue.
8. Pixie With Frosted Tips
Some short haircuts for women over 50 may need a significant amount of styling effort. A pixie is an excellent choice for keeping your hair short and manageable with minimal maintenance. Have a styling wax available to separate and define the minor layers. The sweeping bang softens the image without requiring too much upkeep. Do not forget to add an undercut and keep the roots of the hair darker, and the tips highlighted with a frost color ensure you look so amazing.
9. Bob-Wavy-Layers
Women's hairstyles with medium length and wavy texture are most popular nowadays. These wavy bob haircuts are popular choices for both everyday and special events. With this light blonde wavy bob with dark highlights, you'll look luxuriously best. The haircut has a charming graded look that is accentuated by the uncontrolled appearance of beachy waves. The shoulder-length bob is trendy, attractive, and easy to style. Curl the top layers of your hair to achieve those textured strands.
10. Layered-Cut-And-Highlights
A layered medium crop is ideal for highlighting a full mane. The highlights and layers add so much movement to the waves that it looks incredible. This haircut will add dimension to your waves, and if you pick some subtle highlights for your blonde hair, you'll finish up with a sophisticated hairstyle that looks great, whether it's up or down. One thing to put into consideration is keeping the hair roots darker to get a stunning look.
11. U Shape And Hazel To Dark Brown Ombre
This is a Medium Straight Long haircut with front Fringes, yet it is simple with a distinct personality. This beautiful hazel color produces a dazzling appearance. Color is hand-painted from dark at the roots to brighter at the ends. This color change involves transitioning the whole head of hair from dark to lighter, beginning gently at the mid-shafts. Most ombre hues are based on your natural hair color to make upkeep easier and add dimension to your hair.
12. Short Textured Hairstyle
Long gray hair is undoubtedly appealing, but it may be tough to keep up with. Instead, choose a cropped cut that frames the face while staying appealing. The long side strand in front and behind the ears modernizes the look. Furthermore, the simplicity of the hairstyle makes it more attractive and appealing and much easier to maintain. Highlight the hair with this gray, but ensure that you keep its roots darker to appear better at 50.
13. Lob With Layered Bangs
Are you thinking of changing up your medium hairstyle? Try a stylish, multi-purpose medium bob with bangs. The lob is a fantastic choice for women of all ages since it is sophisticated, classic, and flattering on all hair types and facial shapes. If your hair density is high, you will need some hair weight to style this hairstyle easily. You can easily style this hairstyle using a large round brush and blow-drying the hair to perfection.
14. Brown-Bob-With-Caramel-Highlights
Add caramel highlights to your hair to update your style. Long-haired and short-haired females alike should experiment with caramel highlights or a caramel hair color at least once; the results will indeed exceed all expectations. The significant part about modern highlights is that you may have larger or thinner bits depending on your taste. The possibilities are limitless, but dark hair may be hard at times when it comes to highlights. Try freshening highlights for brown hair with lighter colors like golden caramel.
15. A-Line-Bob-With-Highlights
Bright blond highlights against darker lowlights are among the best hair color highlights for women over 50 years of age. This showcase for both straight and curly hair is a stylish appearance for women will offer classy irresistible party looks to you. You'll have a lot of fun with this young hairstyle for medium-long hair, which has brilliant golden highlights against darker lowlights.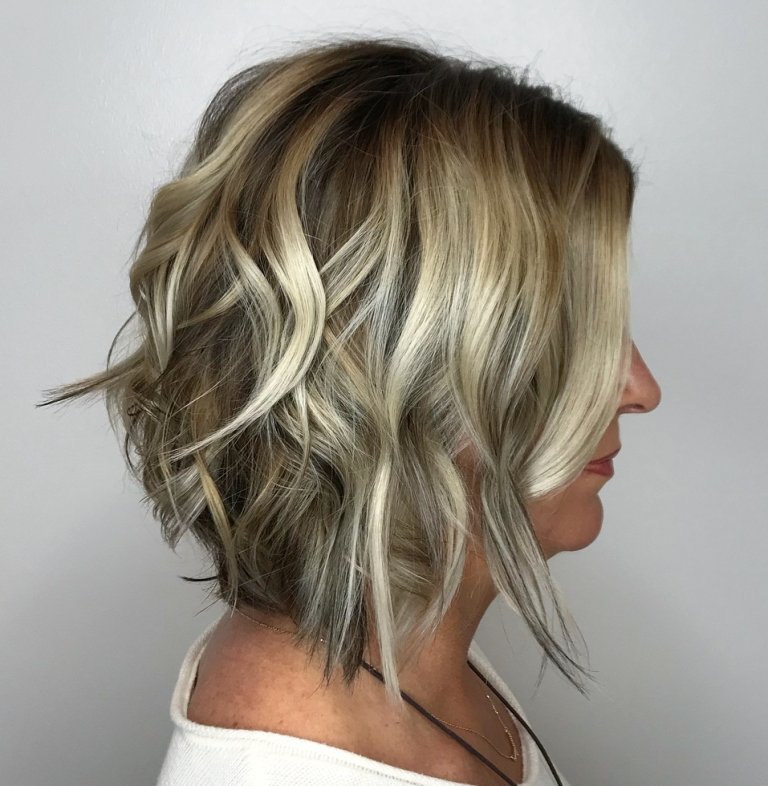 Final Word
It is understood how essential it is for women to discover a hairstyle that will suit them well in their fifties. The list for the highlights is endless; you can try some of these highlights that suit you and then go for the other available highlights. To have fun, make sure you try everything out. Choose from the samples above to discover a method to identify your new self. Remember that older women's hair will still appear stunning while remaining vibrant and natural; it only depends on your hair selection. Choose the ones that perfectly suit you.