Nothing can be more attractive than a woman who loves to experiment and changes her hairstyle with time. Even at the age of 50, you can wisely choose your hairstyle and add more elegance to your personality. Thanks to your 50 years of experience that has made you mastered hundreds of hairstyles in all these years.
To be honest, even hairstylists say that by selecting the correct hairstyle, one can look at least ten, or maybe fifteen years younger. To help you safely experiment with your hair we have selected 15 best hairstyles for you. All the hairstyles are perfect to slim down your extra chubby face. Even if you have medium or short hair, the below attention-grabbing hairstyles will create an illusion of cutting down extra fat overall.
1. Messy Shaggy Hairstyle

This hairstyle is easy to carry and suits women who love very short hairstyles. Characterized by both black and white hair. However, white color dominants throughout the head. Some sections of your hair should attain a curly look and some should be straight. This mixture of small standing hair on the back and slight curvy hair in the front creates little layering. Get this hairstyle by combing your fringe hair straight to conjoin with both the right and the left side of the head.
It is one of the few hairstyles for women that is good for social or official gatherings.
2. Asymmetrical Fringe Hairstyle

This super smooth and stylish hairstyle is for overweight women with medium hair. If you have straight hair, then this might turn your favorite to be on the list. It is characterized by straight asymmetric haircuts. The hairs fallings on your cheeks give your face a slimming effect. Further, the fringes create a focal point and reduce showing much of your forehead.
3. Highlighted Layered Wavy Hair Short Elegant Hairstyle

It comes under medium elegant hairstyles for overweight women above 50. Again, an easy hairstyle recommended for women who have naturally wavy hair. All you need is to fix an appointment at your salon and get at least 3 step layering cut on the back to achieve his feminine hairstyle. Add a little bit of bounce to make it look puffy. This layer high mostly suits casual events and parties. The addition of highlighted hair makes it look more voluminous. When paired with formals it will more beautiful and get you a confident look.
4. Highlighted One-Sided Hairstyle

A lot of colors popping from your one side look super stylish and chic. Ideal for women who like to keep their hair short yet love to experiment. Style the look by sleeking 85% of your hair towards the right or the left side of the head. Keep back hair combed straight. The highlight of this hairstyle is its one-sided short curly-wavy hair colored in unicorn colors. You can keep both the sides wavy and colored but I will suggest styling it one one side way to create focus. You can get it highlighted in different colors as well but for blonde hair, these colors flatter more. Make sure your hair length is till ears.
5. Honey Brown Sleek S Straight Hairstyle

Somewhere in between short and medium haircuts, this honey-brown hairstyle is ideal for women who have got chubby cheeks. Let cherish how naturally the curve of the hairstyle covers the face from both the side and the front fringes further hides the broadhead. You can achieve this hairstyle by keeping a large fraction of your mid head hair and fringe hair should be sleeked towards the left side of the head. Also, the haircut looks straight but it has very slight layering on both sides which falls on both sides of the head in equal length.
6. Frauen Hairstyle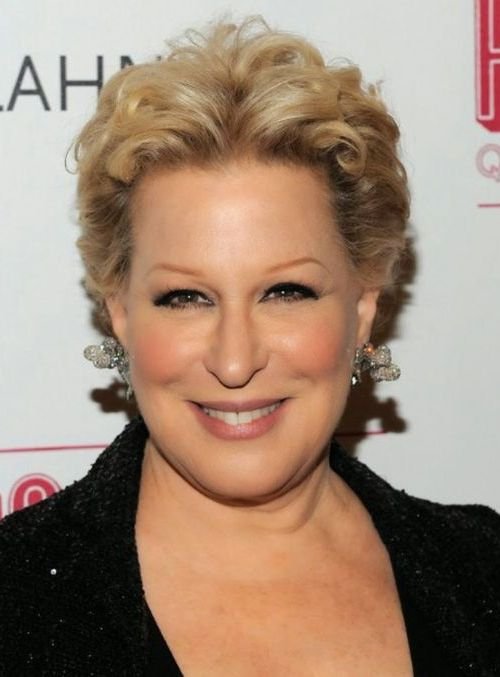 It looks stunning dor among women above 50 who likes to keep it short and stylish. The statement earrings are getting highlighted. Start by drawing a line from the center of your head to some point on your mid head. If you have natural curls then your efforts will reduce. Otherwise, get curlier and create very soft curls on the edge of this partition line. Afterward, sleek them sideways from the front as shown and set it. The lighting of facial features with little bouncy soft curls is what makes this hairstyle stand out among overweight women over 50.
7. Straight Till Chin Blonde Hairstyle

If you live to flaunt your chiseled chin then this hairstyle might work the best. Get this look by incorporating a straight line and partnering it on a 2-1 ratio. on your one side. Do the same with the fringes, get it in 2-1 ration and divide your front view hair into two parts. The main highlight is to keep the length of both sides' hair to be equal. This straight blonde hairstyle looks perfect when it ends exactly at your chin and providing your face extra length.
8. Choppy Voluminous Hairstyle

A little not so straight, this choppy haircut gives it a marvelous cocktail look especially if you have medium hair. Your hair texture needs to be enhanced by giving it more volume. Either use a blow-dry or backcomb your hair little to create texture. Divide your hair into two parts. Later front hair falls on both sides of cheeks to give a slimming effect to your face.
9. Bouquet Wavy Hairstyle

Women with a broad face for square face should go for this hairstyle as it covers up the broad face by focusing on the layered curls. This hairstyle can be achieved by getting a layered haircut in such a way that the top portion looks the most voluminous. As the hair reaches the bottom, layering intensity should reduce order to create a bucket like a hairstyle. Create a small line and divide your hair into sections to make it fall gently on both the side of your cheeks.
10. Sleek Fringe Blonde Hairstyle

Not all hairstyle needs long hair and this one is a great example of a stylish hairstyle that requires hair till neck to achieve it. If you have silky blonde hair then this hairstyle will be easiest for you. Start by getting a new haircut to create various layers.
11. Side Swept Layered Hairstyle

As the name suggests, this marvelous hairstyle includes swiping your hair in one direction while having layers on the back. The front fringes the is then styled on one side so that it doesn't cover your full head completely. Ensure the length of your hair is equal on both sides of the head.
12. Waves on Top Hairstyle

Not all women need to have long hair to look stylish, this hairstyle is one such example where the waves are incorporated on the back hair. Characterized by the fact that the majority of your is back hair has soft waves to create a lot of volumes. Ideal for women with thick hair and working-class ladies to suit official functions.
13. Classic Side-Swept Hairstyle

If you stay busy all the time and hardly have time to spend on hairstyles this might be your perfect pick. Provided you have long and thin hair, get a straight cut without any layers or any dimension. The idea is to keep it straight and then side-swept it on one side. Let it fall on your cheeks gently from both the side. sleek backward your side head hair behind your ears on both sides of the head.
14. Urban Check Hairstyle

Short hair is easy to maintain and this cut is easy to attain after getting the right cut. It suits any kind of event and gives a summery vibe. This style is a mixture of Pixie cute combined with a lot of layering is what makes this hairstyle special. It focuses on giving you a short layered look throughout the head in a pixie cut. After adding both highlight and blonde color, it even amplifies the beauty.
15. Textured Cut Hairstyle

As the name suggests, this hairstyle can be achieved by adding a lot of texture on the back of your hair. Perfect for short hair, this marvelous hairstyle when you blow-dry each layer and conjoin it with your fringe hair, Your face will start looking slimmer. Afterward, comb it on side of the head. Comb the remaining on the other side and it is done.
The above list includes pretty much lot of layering hairstyles as they are easy to do and when combined with fringes, it ends up cutting off extra fat from your cheek. We hope you will consider the above hairstyles designed to fit overweight women above 50.