Blue eyes are the rarest and are often considered the most attractive after green. The color symbolizes confidence, intelligence and peace. I mean it resembles the color of the sky. According to statics only 7% of people in the world have blue eyes. Women with blue eyes complain about how hard it is to choose a shade that compliments their eyes. There is a whole lot of process when it comes to choosing a hair color of your choice. Some of the factors to put into consideration is your skin color, hair color and eye color. It will be a stupid idea to copy a celebrity or friend when it comes to choosing a hair color of your choice. For instance if you have a pale skin any color will look amazing on you. For olive undertones opt for the darker hair colors exclusively. Wrong choice can cause a disastrous look on you. In this review we will discuss the range of colors you can choose from according to your skin tone and you have blue eyes.
1. Brunette With Blonde Highlights
There are different ways of spicing up your blonde hair. One of them is by matching your hair with the luscious brunette. This leaves your hair looking sweet and bright as honey. The blonde color adds warmth and dimension to your hair. This shade looks amazing on women with long hair. The color combo is a favorite to many Hollywood artist and it looks damn amazing on them. If you have blue eyes and a fair skin this combination will look classy on you.
2. Copper Red Color
This is the most popular hair color for women right now. It blends well on women with a fair warm skin tone. There are different shades of copper color that you can choose from. Here we will focus on the copper shade with red highlights. This combination looks hot and brings out the luscious features of the hair. Another amazing fact is that it is budget friendly as it's easy to maintain. All you need is regular conditioning of your hair.
3. Buttercream Blonde
This is a creamy color which provides a perfect balance between cool and warm leaving you looking cool against your skin tone. The color is a bit shouting and requires a lot of confidence to wear it as people won't stop turning their heads to stare at you. This color brings out the blue eyes more and is a perfect shade for winter. You should try out this amazing shade this winter if you've never tried it. The shade leaves you looking classy and chic.
4. Honey And Golden Highlights
This color is best suited for warm undertones. Here it depends on how much yellow you wish to bring out to your look. The color is best suited for summer and looks amazing on any hair length. A little effort is required to maintain this shade. You will require to regular conditioning your hair so as to maintain its healthy luster. This color gives you a classy and elegant look. You can never go wrong when you try out this hair shade especially if you have a warm skin tone.
5. Deep Jet Black Color
This is basically a deep black color. It is one of the most charming and mysterious hair shades. The color is natural and leaves you looking simple but classy. It looks amazing on women with long and volumize hair. The shades adds luster and warmth to the hair. You can rock this shade at any time of the year. Adrianna Lima an Australian model is well known to rock this hair color. She models for Victoria secrets. The color brings out her blue colored eyes more making her look beautiful and sassy
6. Warm brown color
This hair shade is perfect for cool undertones. It usually works magic on your complexion. Choosing this shade is an amazing way of rocking the brown shade. The color has been used for ages and it never goes out of style. One interesting fact is that it can be worn both during winter and summer. It adds volume to your hair and brings out the blue features of your hair. Regular maintenance of hair is required so as maintain a healthy hair.
7. Sombre
This is a blend of dark and light colors. It looks amazing on long and voluminous hair. The color brings out character and blends well with the blue eyes. The color is perfect for women with a fair skin tone. This is because the blend of dark and light shade compliments the well with the skin. The color is best when worn during summer as it is not that bright neither is it dull. It's a good choice for people who don't like much attention.
8. Butterscotch Brunette
This hair color resembles a candy called butterscotch. It features a warm base and golden tone laces throughout the hair. This color is customizable which means you place highlights at any part of the hair. The golden tones make it a flattering option for most women. This is a warm color therefore it compliments well with women with warm skin tone. This shade is easy to use especially at home. But if you want to achieve lighter shades its better you visit a hair salon.
9. Platinum Blonde
This is blonde hair color that gets reduced of its bright pigment into a shade that looks like ash or silver. It involves taking most pigment of your strands to look like white or silver. The shade is cool for women with warm or cool undertones. This is because it compliments their complexion bringing out the blue colors more. The color can be used both during spring, summer, and winter. This color leaves you looking gorgeous.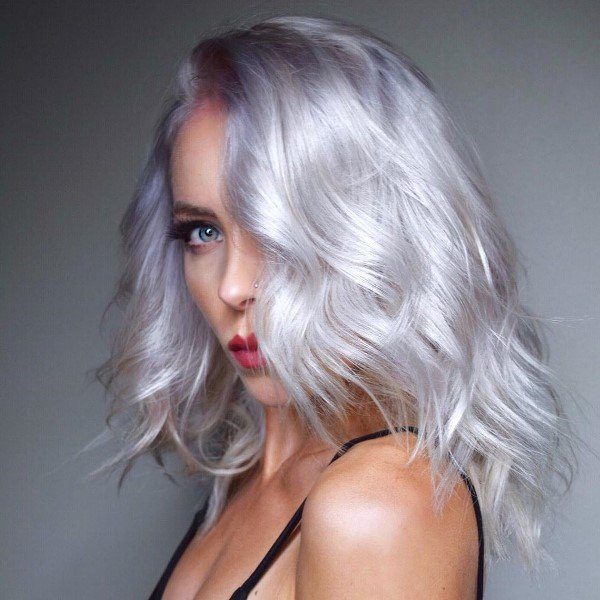 10. Dark Brown With Highlights
This is a common color which many women prefer. It is normally simple yet elegant. Adding highlights makes one look more elegant and simple. The color compliments best on women with fair skin tones. It's neither bright nor dull. The highlights add luster to the hair leaving it looking shiny and healthy. Regular maintenance of is normally required. This is achieved by constantly shampooing and conditioning the hair.
11. Light Auburn Brown Hair Color
This warm look compliments well with the warm skin tone. It gives out a natural look leaving you looking simple yet classy. The shade brings out the blue color of your eyes. Amazing fact about this hair shade is that it can be worn both during summer and winter. This shade is achieved by working handy with a blonde bas before adding the auburn shade. Try out and this amazing hair color as you can never go wrong.
12. Icy Blonde With Ashy Tone Highlights
This shade is cut out for women with neutral undertones. This shade compliments well on girls with blue or grey eyes. This is because it brings out the amazing color of your eyes. It is a combination of icy blonde with ashy like highlights at the tips. The color is shouting and people will constantly stare at you. Nevertheless it is an amazing shade to rock especially during the winter season. However constant maintenance is required to retain a healthy hair.
13. Blonde Hair Color
Blonde is a blend of brown and blonde hair color. The color is combined using highlights. The color is wearable since it has natural highlights that add dimension onto it. One requires to lift to a blonde and then you tone it down. To maintain a natural look it is advisable to avoid many levels of highlights at one time.
14. Dark Brown With Highlights
This is an amazing shade which comprises of dark-brown hair color with highlights at the edges. The shade best suits women with long hair as it adds volume and lustre. It is best suited for women with warm undertones as it blends well on them bringing out a warm look. Meghan Fox is an American actress who effortlessly rocks this shade and it looks stunning on her. The color gives her a warm look and leaves her looking beautiful and classy.
15. Peachy Pink
Peach is a mix of pink and rose gold undertones. One should be careful when choosing this hair color as one should consider their skin tone. The shade is great on both long and short hair. In addition it can be worn both during winter and summer season. It mostly suits women with a warm undertone as it is a warm color. Women with voluminous hair are encouraged to choose this shade as it adds luster and volume into the hair.
Having had the above discussion, one can comfortably decide on which shade to choose from. All that is required is to know your hair type and skin tone. This helps in you deciding which color will blend well with you and give you an amazing look. Other than that it is important to regularly maintain your hair by conditioning and shampooing it.