Green eyes are always a show stealer one their own but since there are a novelty they also deserve a great skin complexion and hair color combinations to look glam. If you have green eye pigmentation then you know that you are a rare kind as they are officially the scarcest type. You do not need touch ups for your gorgeous green eyes but you can do more about your hair color.
Regardless of the exact shade of your green eyes, you are gorgeous and eye catching and so you should make yourself even more exotic and irresistible without a unique hair color that does not fade. Examples below speak louder than any wordsmith could say. Enjoy!
1. Ash blonde hair color
Ash blond is one of the most favorited looks for the green eyed fair skinned beauties that roam the planet. You will notice that these rare creations also grace our eyes with hints of gray on their voluminous manes. The ash tones cool down the hot look a little bit and add a Smokey appearance to the already almost always naturally blonde or light brown hair. The choice of cool toned compared to warmer shades of blonde seems appropriate for women of green eye pigmentation compared to blue eyed women. This particularly flatters the bright eye colors and will work also with blue eyes or even hazel eyes in some rare cases.
2. Platinum blonde hair color
Platinum blonde makes a superb choices for people with ashy to silvery undertones on their skins and does an even more spectacular job when combined with green eyes. The platinum shade is the lightest among all selections of blonde and it becomes of the some of the lightest eyes that walk the earth. You might be concerned that the pale color will also wash out with the use of shampoo and other alcohol based solutions for your hair but that is not always the case particularly if you invest in products for dyed hair and apply it correctly.
3. Dark brown hair color
We heard that you have been searching for a highlight color for your hair that will also agree with the green emeralds that you flaunt for eyes. Because you cannot wear shades the whole way, you probably already know that your gems shine in their best light when given a warm brown backdrop. You have probably chose a brown highlight for your hair but did you know that it could look this great if you didn't even try so hard? Dark brown hair can be a low maintenance option which means that you get to add a suitable highlight to make it not so easy. The lighter you go the more the maintenance you will need.
4. Red hair color
Are you in the market for that high impact hair color that will turn heads and says I am fiercely beautiful and bold? If so, nothing shouts louder than red. It is one of those hues that scream confidence and turn heads everywhere. If you are bold enough to jump into red and other similar unnatural shades then this is your best look to immerse yourself for the first time. With colors like red, you do not have to worry about trends because it is always going to look hotter than the next lady's and it's for absolutely everyone. People love red heads and absolutely everyone can be a red head and love it!
5. Warm golden blonde for green eyes
This lady has very gorgeous warm green eyes and her hair is equally matched with warmth and a range of blonde that makes the eyes pop. The honey hues are something to die for even among mere mortals but for green eyed goddesses they are worth the world. In fact the best blonde choices are also well suited for green eyed goddesses. Some of these deities choose to be icy cold on their crowns and it still looks out of this world. Make your golden locks glow and your skin radiate with magnificence.
6. Light blonde hair color
Light and blonde hair is a gorgeous look to pick for green eyes. Blond is the theme that matches the rare sight of green eyes perhaps because blonds are also some of the rarest finds when it comes to natural hair color. So you do not have to be a natural blonde to embrace your uniqueness and it's fairly easy to choose and apply a shade of blonde. Obviously, the brighter the shade and the further away you stray from your hair color the higher the maintenance you are likely to need. More light as shown here requires medium to fair skin and the green irises are just a wonderful addition to an already great hair and skin combo.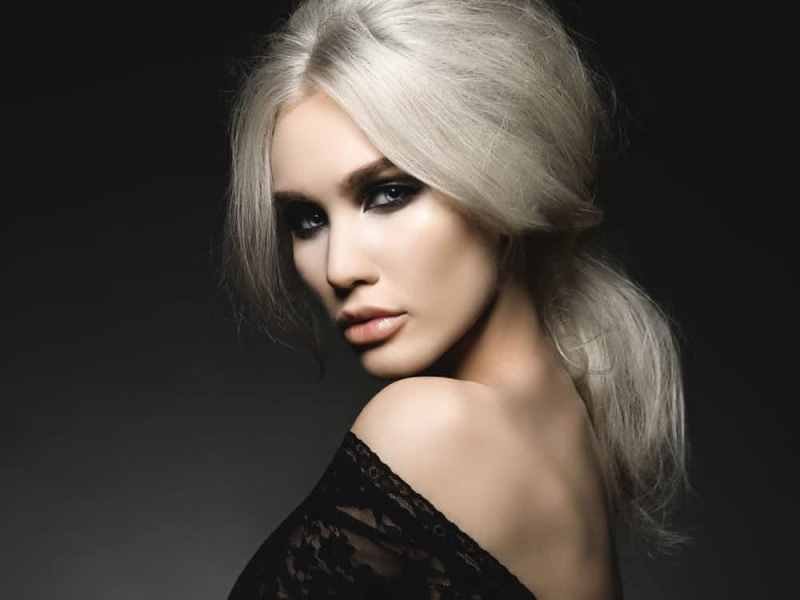 7. Jet black bob cut
While most green eyed women will go with brighter colored hair colors, you can choose to be different and choose a deep brown bordering black. It is a cool grey toned look that easily blends with the honey hued eyes. She looks confident and gorgeous under her own skin and that inspires beauty on a new level.
8. Dark ash brown
Dark Ash brown is not the most obvious choice of color for hair among fair skinned women but for green eyed lovelies, it is a safe haven. Browns are the natural alternative to blond that green eyed beings find themselves confined to though saying confined here is a misuse of the word because they have virtually unlimited options. If you love putting your locks up in a hairdo then you will love the flatter of his choice combination.
9. Chestnut brown
Chestnut is the next best thing after you grow tired of the browns and do not wish to go full blond and become a "whitey". It is a richer color and gives your hair dimension so that it does not feel flat. It is a suitable color for cooler weather because it adds warmth by natural appearance and contains a mixture of sexy hues. If you have hazel green eyes then this look will look super flattering on you.
10. Dark chocolate hair color
If you are looking for an easy color to maintain and look stunning effortlessly then dark rooted chocolate brown is the perfect choice for you. It is a rich foody color that adds both dimension and absorbs thee excess reflection from your skin and keeps you stylish at very low cost of maintenance. The secret is to leave the roots at the original natural shade which gives your time to repeat treatments before it grows out again.
11. Ash brown hair color
Perhaps you are looking for a more subtle blend of brown. There is no shortage of brown hues for choose from on this list of best color picks for green eyed goddesses. This balayage highlights the important details and the set of green emeralds are framed nicely against her cool skin. To achieve this look, you will need to pre-lighten your hair a little bit to add the ashy brown effect.
12. Warm blonde
This Warm Blonde is the richer version of the sunny orange vibe that comes with gold and red undertones. This is like the one of the most neutral yet random choice in the spectrum and shows a deep blonde can be made to feel like beige. The style combines multi-tonal effects with a natural appearance making this looks warm and gorgeous. She goes for cooler highlights around the face and keeps the look warmer everywhere else.
13. Golden brown hair color
Gold is another highlight that will befriend the green eyed beauty because it seems to the the only material worthy of deity. This color looks glam for warmer weather and will make you simply fabulous this summer. Honey keeps gold in check and will sprinkle the right highlights to give you that majestic sun kissed glow.
14. Chocolate brown hair color
Black hair might not be the obvious go to for green hair because it lacks the hype and oomph but it actually looks great on green eyes and especially when paired with chocolate brown hair. The black hue has an advantage of no only looking fluttery and gorgeous in all light but also complements all your wardrobe choices and it looks official so you can wear it on business trips and all manner of important functions without feeling out of place.
15. Light brown hair color
How better to conclude this list of brown hues for green eyed princesses than with a light brown to honey hued brunette. The color is warmer than medium brown and seems to have a touch of copper or auburn which enriches its appearance. The reddish hues also flutter the skin tone a little bit. You can steer clear of blondes and ashy tones with this golden theme and undertones and look gorgeous while at it.
If you have already picked a complementary eye shadows that matches your choice of wardrobe, now you only have to figure out your crown and you are good to show up and show out at any party where it's happening. Most celebrities with green eyes go for a brown hue and vary with blonde hair color while a few divergent go bold with fantasy.