Being over 50 doesn't mean that you can't rock the same hairstyles that you used to in your 20's and 30's. most women are normally afraid to try different hairstyles because their hair is normally thinned and looks worn out. Well, there is a range of hairstyles that you can choose from. Many veteran celebrities are a living example that 50 is just a number. Amazingly most look 10 to 15 years younger than their actual age thanks to the hairstyles they choose.
At 50 you should feel more sexy and classy about yourself as you age gracefully. In this review, we will discuss different easy-to-maintain hairstyles that look good on women over 50.
1. Classy Front Facing Pixie
Short hair for women will always remain classy over the ages. This is because the style is versatile and suits everyone regardless of your face shape. In addition, the hairstyle is easy to maintain. The wispy and windswept hairstyle basically involves short layers which are created to add volume and dimension to your hair. This makes the hair look gorgeous and sleek. Natural hair color is highly encouraged so as to keep your look simple and yet classy.
2. Chic, Sleek, And Silver
It involves piecey layers that normally soften one's facial structure. The hairstyle is ideal for short-haired women as it's basically a bob that has waves. The waves add a dimension that makes you look younger. Colors such as silver are ideal as are they are natural colors that do not require a lot of maintenance. Hellen Millen a veteran actress is well renowned to rock this amazing hairstyle.it creates a natural glow that blends in well with her heart-shaped face.
3. Pixie With Brushed Up Bangs
This is a simple and yet sophisticated hairstyle. It basically involves you applying a firm gel throughout your hair and using a vent brush that you direct towards your hair roots. This ensures there the hair is uniformly straightened while maintaining that pixie length. Platinum blonde hair color is ideal when it comes to this hairstyle. The combination leaves you looking sexy and confident despite your age. Ensure you regularly maintain your hair by conditioning it.
4. Short Wavy Cut
This hairstyle is quite versatile and you can do so much with it.it blends best with both thick and thin hair types. Adding waves and highlights at the roots is a good idea as it adds volume and dimension to the hair. This enhances your appearance leaving you looking young and everyone will want to have a hairdo similar to yours. Emma Thompson a British actress is known for rocking this hairstyle for quite some time now. Having a look at her you can't know that she's over 50 years of age.
5. Choppy Layers Textured With Blonde
The choppy layers have been trending for quite some time now. They are ideal for medium-length and thick hair types. Adding waves to the hair is a great idea as it adds class and sophistication to your look. KellyRipa is a celebrity over 50 who rocks this hairstyle. It blends well with her round face especially when divides in the middle. Ensure you choose a natural hair color such as blonde that will enhance your natural appearance.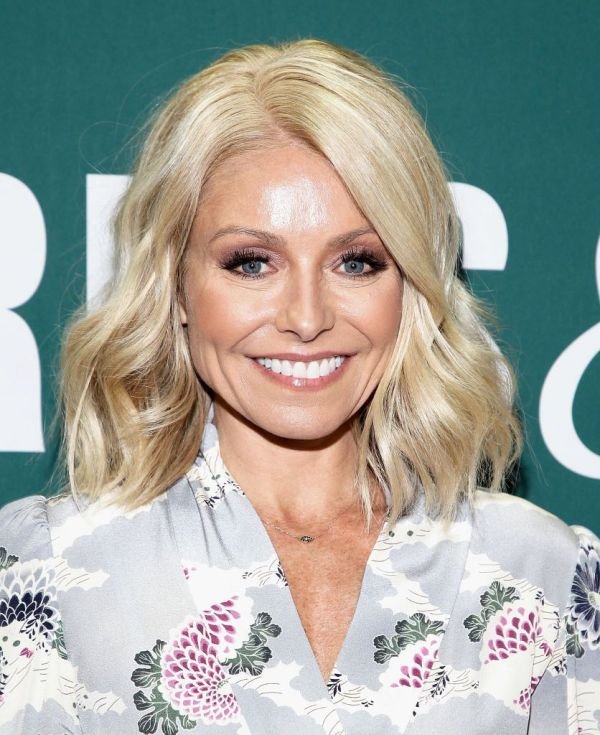 6. Stick Straight Bob
This is such a jaw-dropping hairstyle. The hair length required is normally medium and thin. This is because it is easy to achieve well-straightened hair with a thin hair type. Adding a blondish highlight at the base is a brilliant idea as it adds glamour and pop into the hair. The style is ideal for oval-shaped women as it enhances their appearance, especially when divided in the middle. When choosing a highlight it is important to consider your personal preference.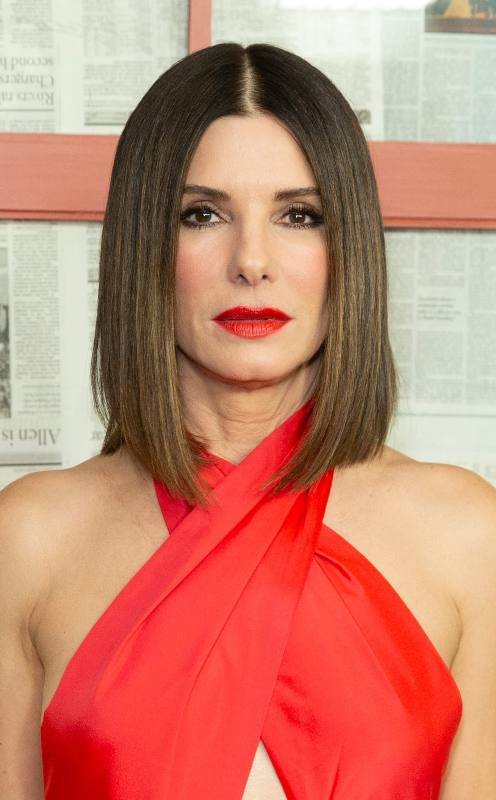 7. Lightly Layered Cut
To achieve great medium-length hair do you have to perfect the layering. This hairstyle is ideal for hair that is neither thick nor thin. Normally the layers add body to flat hair and texture to the thick hair type. It is important to get careful about how you do the layering as excess layering normally ends up jiggering the hair. Ensure you maintain a dark color at the base and highlight with bright but natural colors at the hair tips. The hairstyle will leave you looking classy and elegant.
8. Shaggy Bob With A Spritz Of Salt Spray
The bob hairstyle has never gone out of style. This is because there are different ways in which one can rock this amazing hairstyle. The salt spray normally creates a natural-looking texture into your shaggy hairstyle. The texture is scientifically proven to reduce to one's age leaving you looking sweet 20 . Maintaining one color from the base to the hair tips is a good idea. It makes your hair look natural and elegant at the same time. Julianna Roberts is a great legend of women under 50 who rock this amazing hairstyle.
9. Perfect Blond Lob
This is an effortless hairstyle that requires minimum maintenance. The hairstyle requires the right shade of blond that adds sparkle thus making your complexion come alive. One of the factors to consider is your complexion before deciding which hair color to decide. Thick hair is ideal for this hairstyle. This is because you are required to regularly flat iron your hair. Ensure you invest in a good flat iron, shampoo, and conditioner. This will help you achieve your hair goals.
10. Sleek Shoulder Length Cut
The hairstyle is often confused with the long bob. However, that's not the case. This sleek length hairstyle does not need flat iron but for the bob, it is a must for one to flat iron it in order to achieve this hairstyle. The darker shade is maintained at the base and bright natural color highlights at the hair tips. Olivia newton a veteran songwriter is known to rock this hairstyle. You can't believe she's over 65 years of age by looking at her. The style blends in well with her pale skin tone.
11. Curly Gray Tapered Hairstyle
Being over 50 does not mean that you shouldn't look and feel sexy about yourself. Well, there is a variety of pixie hairstyles that you can choose from that absolutely blend in well for most women over 50 despite their face shape and skin tone. The curly gray tapered hairstyle basically involves voluminous curly hair which has been tapered. The gray color absolutely blends in well with this hairstyle. However, I would recommend this hairstyle to medium and olive skin toned women.
12. Perfect Sleek Style
This hairstyle is perfect for fine-haired women. It is a simple hairstyle that requires thorough blowing out so as to achieve perfect, sleek, and well-straightened hair. After that is a great idea to style the hair in the middle. Maintaining a dark shade at the base and blonde highlights at the tips is a brilliant idea of adding elegance while maintaining simplicity. The hairstyle is ideal for oval face-shaped women. It's time you add this hairstyle to your bucket list for better styling days ahead.
13. Sleek Bob
It is a simple hairstyle that is full of vibrancy. The style is great for ladies with a square-shaped face. The bob focuses on the jawline thanks to its curved style. Ensure your style is well to achieve a chin-length bob that is classy and elegant. When styling ensure you vary different lengths of the hair at each side. In addition, separate each section of the hair so as to well straighten each strand. Natural colors such as grey are ideal for this hairstyle. Age gracefully with this hair look.
14. Layered Bob With Swept Bangs
This is a charming and graceful hairstyle. The bangs normally add shape thus transforming your whole appearance. At 50 you still want to look young thus bangs ideally reduce your age by 5 to 10 years. Being a medium-length hair type, thick hair is necessary so as to achieve a layered bob. Ensure you maintain one color from the base to the tips. Choose natural colors such as blonde, grey, or ash. This will leave you looking classy and elegant
15. Face Framing Long Bob
The bob hairstyle has never gone out of style. One good thing about it is that it is ideal for all ages. Framing your face is crucial when it comes to achieving a more youthful look. This is because the frames normally take your complexion concerns away. Dark blonde is great on this hairstyle. Add waves so as to increase the dimension and size of the hair. The style is ideal for olive and medium-toned women. It is always important to put personal preference into consideration before deciding which hair color and style to choose from.
In a nutshell…
Having had the discussion above it is easy for one to decide which hairstyle suits them best depending on their skin tone, eye color, and personal preference. For instance, if you are olive skin toned then hairstyles such as face-framing bob are a perfect choice for you. Get yourself one of these amazing hairstyles discussed above and look sexy and sassy as you age gracefully.