Choosing a hair color that suits your skin type can be quite a task. This is because there is a variety of different hair colors that leaves most women confused. In this review we will discuss the suitable hair colors for tan skin women. The most preferred hair color for tan skin women is normally dark a stem ranging from red to brown. This colors usually brings out the amazing features of your appearance. Amazingly there are light options as well especially when it comes to the highlights. Let us have a look at the 15 of the leading choices that you can opt for.
1. Honey Blonde Hair Color
Honey blonde is a blend of light and dark tone. This combination normally adds a depth to ones tresses. This is because tan skin is normally between medium and dark brown. Thus this color tends to make the hair look more voluminous. Your appearance becomes more outstanding when you maintain the roots dark and have light ends. The ends tend to bring out your complexity more making you look beautiful and stunning.
2. Warm Caramel Balayage Color
This is usually a common style but interestingly it has never gone out of style. It is a classy style that brings out the amazing features of your skin. The balayage style involves one painting their hair using their own hands. To spice up you need to add a warm caramel shade so as to make the waves look stunning and chic. This combination is normally ideal for women with long, wavy and thick hair type. It tends to add volume and class making you look beautiful and stunning.
3. Brunette Hair Color
There is normally a lot of work involved when it comes to choosing this hair color. Interestingly not much effort is need in order to achieve the brunette hair of your dreams. For instance if you have platinum hair, any shade can be used to achieve a natural base, at this point you choose your favorite color. You are not limited. However many experts recommend frequent mixture of colors to achieve a great brunette hair style. For example you can mix caramel with golden tones so as to achieve a warm and rich tone.
4. Ombre Hair Color
Ombre is a daring hair color and there has been different hair versions of this color.It looks good on all hair types but it's not that interesting for the short hair type. The color brings out amazing features on the longer tresses. Choosing the color of your choice normally depend on your hair color and length. For instance if have long hair and opt for the long blonde ombre then the color will bring out the soft somber looks on you. Short haired women can try this hair color too by trying the reverse ombre as it brings out an original sharper look.
5. Silver Shade Hair Color
Silver is a chic, sexy and on trend hair color. This color normally blends well on women with the tan skin as it is not that shouting neither is it dull. This is contrary to the perception that it is for the eldery.When it comes to this shade there are normally different colors that you can choose from to create that amazing look. In addition there are different silver hair color products that you can use to help you achieve that chic look you've always yearned for.
6. Caramel Hair Color
There are different shades for the caramel hair color. This shade is quite similar to the brown hair color with blonde highlights. It is normally important to decide which shade you want to achieve and this goes handy with the length of your hair. For instance if you want to maintain the natural shade of your hair then caramel plays a great role in this as it a warm shade, it creates a perfect balance maintaining the warmth level .
7. Honey And Caramel Tones
Normally tan skin and blonde hair in neutral shade and medium brown usually go together well. This makes one look appealing and people will just admire your hair wherever you go. The caramel tone normally looks appealing on the blondes and brunettes as it brings out amazing features in them. It is normally a sun-kissed shade. The shade hits a perfect balance between the rich shades of red, blonde. This looks great when mixed under different kinds of light such as darker base colors.
8. Jet Black Hair Color
Jet black hair color usually features the deepest shades of black. Interestingly it is one of the most desired color in the world. This is because it has an amazing shine, unparallel dimension and is natural which makes it classy and not the normal plain and simple color. The dark shade gives a statement of mystery. Amazing fact about the color is that it is universally accepted and can be used by any skin color. In addition it is easy to maintain the lustre.
9. Auburn Red Hair Color
Auburn hair color is the best complexion to rock at any season. This is contrary to what most people claim that it suit best during summer and winter. The auburn red hairstyles are quite diverse. I mean there are different shades that you can choose from. All you need is to take a look and see whether it suits your taste. Other than that take into account your skin tone. For the tan skin women, this color suits them most as it brings out their complexion more when they rock their hair with this color.
10. All- Over Soft Blonde Hair Color
This hair color involves taking blonde all way up to the scalp. You then ground the roots with a darker tone for a softer approach. This limits the number of frequent maintainance.There is a wide range of options to choose from if you want to rock a blonde hair color. Going for the blonde hair color is undoubtly a fun process as you effortlessly require to maintain your hair. This color blends well with the tan skinned women as their skin is normally between brown and darker brown. Kim Kardashian is a celebrity who is tanned skinned and is known to effortlessly rock this hair color.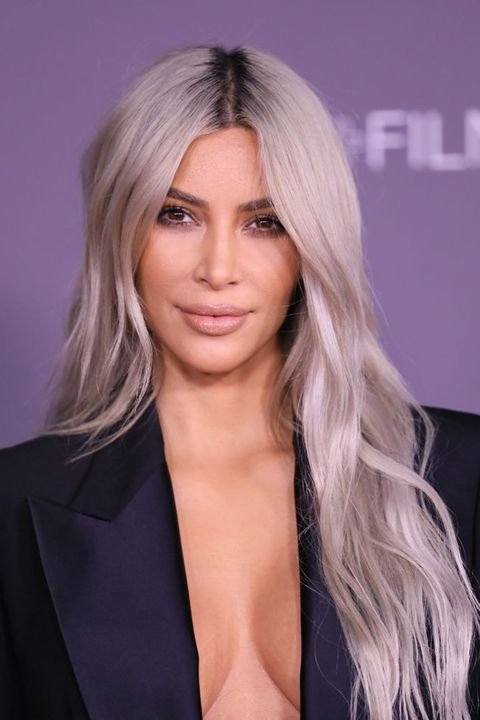 11. Light Brown Hair Color
The light brown color is a shade that is lighter than medium brown and darker than the ash shade blonde. This pretty color normally highlights your features in addition to adding warmth to your complexion. The color makes you look as natural as possible without attractive much color as possible. This shade suits well on women with long hair as it brings out the natural color of the hair. The color brings out class, elegance and makes one look sassy.
12. Cool Ombre Auburn Hair Color For Tanned Skin
Many women with tan skin normally seek a balance for all that they do, from outfits to their makeup and hair color choices. The cool Ombre is a combination of different shades of the auburn hair color. Here the top part is normally a brunette version of auburn while the other blends into a brighter alternative. This color brings out the best and enhances your appearance.
13. Light Golden Brown
The best time to enhance a lighter look when it comes to your hair color is now. The light golden brown color is normally perfect for warm ups during winter and looks better on loose hairtype.When it comes to dying this kind of hair maintain a dark color at the base and then work on achieving the desired level of brightness throughout the hair. This color adds you elegance and class. Many hair experts recommend for a hair care routine to maintain a healthy hair.
14. Cool Balayage
When it comes to choosing this hair color, use of hand to paint the hair is required as opposed to the traditional way of using foils and caps for highlights. The use of hand allows one to achieve a more natural effect with transitions between the chosen shades. The balayage is normally considered as the hottest customized hair color choice for tan skinned women. This is because it is natural and enhances ones appearance better.
15. Brown Hair Color
This specific hair color is a blend of medium brown and light blonde. It is normally a great way of lightening up naturally dark or dark natural blonde hair color. This color adds a shiny overcoat, depth and texture to your hair. This leaves you looking stunning and amazing.
If you have a tan skin hue there are plenty of options to choose from. This is because most of these women have dark hair and are looking for ways to enhance their hair appearance. The options mentioned above can help you decide which hair shade to choose. The options above are interesting, appealing giving you a range of options to choose from.