Trends aren't over simply because you're a little older. This is a perfect moment to begin experimenting with your hairstyle. After all, there are still lots of fun, stylish styles for ladies over 50 to explore. You can still turn heads with your hairdo if you're over 50. Short bobs and medium-length haircuts are often the "safest" hairstyles for women over fifty. These look great with wispy bangs and delicate, face-framing layers. Try a long hairstyle with layers or vivid new hair color if you want to stand out even more. Whatever path you choose, these Hairstyles are Simple Yet Elegant and will add something nice to your looks.
It's time to embrace your natural beauty, and the first step is to choose a classic, sophisticated haircut. Whether you haven't changed your appearance in years or want to try something new, these hairstyles and haircuts for women over 50 will encourage you to visit the salon right now.
1. Messy, Heavy Shag
The shag haircut, a flexible style that fits nearly every hair type, is one of the hottest hair trends. You may be sure that a shag will maintain your appearance current and attractive. Everyone has a style, whether you have thin or thick hair, short or long hair, straight or curly hair. The thick layers frame her face. The chaotic parting not only looks impressive, but it also helps to balance out any imbalance in your face characteristics.
2. Long Layered Hair
Age is truly only a number. You may have spent the last 60 years finding out which haircuts suit you best, but don't be shocked if you find yourself yearning for a change. When selecting a style, you should carefully examine your facial shape and hair texture. Get yourself a curly long layered hairstyle that is center-parted. The hairstyle length will flatter all face shapes, and regardless of age over 50 years, it will blend well with your hair texture.
3. Wavy Shaggy Medium Hairstyle
Have natural black hair and want to know how to style it to fit your age? This haircut allows you to show off your thick black, somewhat wavy hair. Women over the age of 50 with hair that reaches almost to the shoulder should try the hairstyle. Begin by dividing the hair in the middle from the crown area, cutting the front hair into bangs and sectioning the hairstyle into bangs, and letting the hair seem natural with beach waves to frame the face and highlight your best features.
4. Long Silver Hairstyle
Many of us will experience the natural transition to gray hair at some time in our lives. While some women opt to tint their hair, others prefer to embrace their natural color. The latter is a genuinely liberated option that allows you to experiment with a new hue. If you want to go back to your natural gray tone, stop using single process bases and do highlights exclusively. If your hair hasn't turned silver, naturally, you can get a silver dye to give you the color. Make sure your hair is thick to get the best from this hairstyle.
5. Medium Wavy Hairstyle With Side Swept Bangs
To assist in accentuating the bounce movement of the lovely waves from the mid-lengths to the ends, a mix of medium to long layers are cut across the sides and back of this gorgeous mane. The jagged cut bangs are swept to the side to soften the face and perfectly finish the overall hairdo. The hair has been curled and styled with additional volume at the roots and throughout the hair. This is perfect for oblong face shape, which benefits from extra fullness around the face.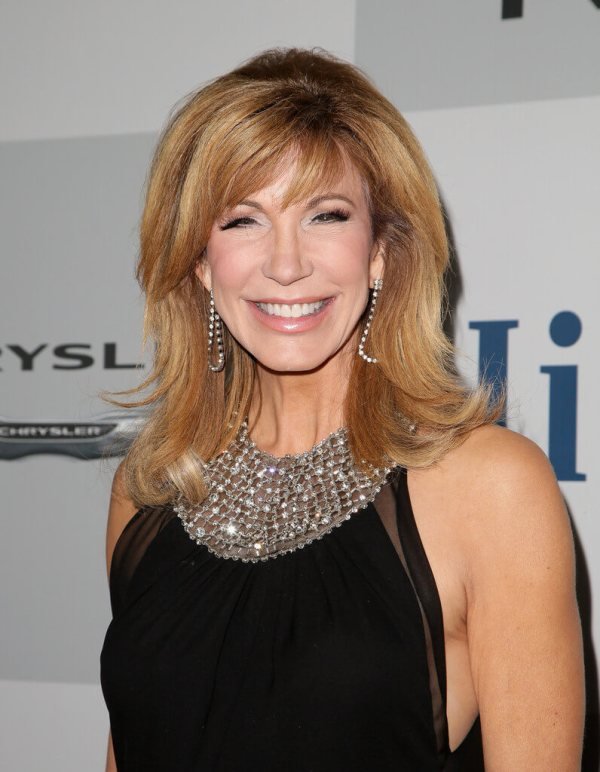 6. Updo Sleek Twist Short Hair
Do you like more complex hairstyles? Even though it appears to be pretty complicated, you will not spend much time constructing it. To get this smooth updo, twist your hair strands consistently and bind the ends at the base of your hairdo. With this hairstyle, you will look classy and younger than your age, will all confidence and elegant looks that this hair creates in you, you will always get noticed.
7. Medium-Brown Highlights With Long Fringes
This hairstyle is appropriate for ladies with shoulder-length hair. The bangs must be kept long with this haircut. The bangs immediately over your brow are maintained short, and the sides progressively grow. This one beautifully frames your face and brings out the delicacy of your features. To polish off your appearance, add medium brown highlights to your hair. This is an excellent hairdo for formal occasions or business gatherings.
8. Light Blonde Hairstyle With Updo
When you're 50 or older, it may be tough to pick between haircuts that make you seem a touch too young and those that push you out of your comfort zone. While you should always wear any hairstyle that makes you feel confident and comfortable, it's also a good idea to know which sophisticated, current hairstyles are available. The warm tones used to complement this highlight make your eyes sparkle beautifully. The updo draws attention to her face and allows natural light to enter your eyes.
9. Sleek Pixie Side Part Grey
Do you want to look younger by adding classy style to your grey hair? The pixie sleek side-parted hairstyle is the best for you. To add definition and edge to your pixie cut, split your hair with a side part and smooth it up and away from your face. As a result, you will have an attractive and stylish haircut that can be worn in almost any setting ranging from office wear to personal occasions.
10. White Short Bob With Layers
If you're looking for a new look, this classic chin-length bob in a meticulous combination of white and blonde is trendy and eye-catching! This is one of the most face-flattering bobs for ladies over 50, high-fashioned classy women. Even better, if your hair is already white, you'll save time and money on salon bleaching by going naturally white. You will never go wrong with this kind of hairstyle.
11. Blonde Hair With Dark Tips
Did you realize that blonde hair darkens with age? A deeper shade is a more straightforward transition for any lady changing hair colors and seeking blonde shades since there is more to deal with in terms of varied highlights and darker hue combinations. This is an inverted hair color to what most people have tried. It is so unique in such a way that the blonde shade is hued to form dark tips of the hair.
12. Mid-Length Bob
Medium bob haircuts are timeless and elegant. They can appear significantly different depending on your haircut and how you style them. Straight and sleek, asymmetrical bobs provide the current appearance, variety, and convenience that you seek in a hairstyle. You can go with platinum blonde, and making this hairstyle medium creates a nice look for anyone so official but over 50 years of age.
13. Side-Swept Fringe
There are several ways to trim and style your bangs, so don't feel limited to the straight-across bang. There are many options for you women, and don't forget that this side-swept fringe is youthful, edgy, and highly sophisticated. It looks fantastic with a longer pixie style and a frosty gray and blonde hue. You will like it if you are over the age of 50!
14. Medium Layered Bob
If you're looking for the most recent hairstyles for women over 50 with bangs, look no further. Your stylist should begin by dividing your front-facing hair into two sections. Each section should be combed oppositely. The majority of your front-facing hair should be brushed to the left side of your head. Ensure that the majority of your hair is curly-wavy. A charming hairdo highlights that your hair is kept below your chin. It's worth a look.
15. Short Side-Parted Pixie Haircut
This hairstyle perfectly suits someone over fifty years of age with dimensions of ash blonde and long bangs, and they ideally aid in hiding the wrinkles and all skin imperfections. This short hairstyle is for medium texture hair, thus framing the face and allowing for much versatility from the texture tousled cropped top to a polished one. It will flatter aged women by helping them appear younger by adding layers to the hair and the beach waves that offer a classy style.
Conclusion
If you are a woman, no matter your age, you will always be captivated by the beauty of your hair. Most women spend a significant amount of time caring for their hair and skin. Even if you use many hair care products and spend a lot of time and effort on your hair, it will not produce the desired magical effect if you do not choose the appropriate hairstyle. As a result, while styling your hair, the first step is to choose the right haircut. Having gone through the list above, don't hesitate to get the classy hairstyle of your choice. You can also try all of them out; remember you only live once; beauty is endless.