One of the best things about hair colors is that there is usually a variety of hair shades that you get to choose from. This may seem like an easy task but it's quite tiresome. This is because most women are not usually aware of their hair types and skin tone. However one has the freedom to choose whatever color suits them best. In this review we shall discuss which shades suits best women with cool skin tones.
Most hair experts recommend, sand, beige, blonde shades for this type of skin tones. Other than that it is important to know your hair type and texture before deciding which color to choose from. There are many female celebrities with cool skin undertones who are known to have a taste when it comes to choosing a shade that suits them best. We will discuss a few of them in the article above.
1. Light brown with golden highlights
This long hair model looks absolutely stunning with a light and dusty brown shade with a fine glossy finish punctuated by the golden glow towards the ends. She has cool skin tone which shows that there is no limitation to how good your beauty can pop even with cool skin tone. It is one of the best skins to have for better coloring on your hair and diverse range of choices for hue and style.
2. Brown hair for cool and olive skin
When it comes to choosing your hair color then you should never feel boxed in. There is immense pressure to conform and usually this does not help when you have cool skin and still want to pop with color. Brown hair is not the most shouting color you can get for your hair but it adds warmth and aligns with the goals of most ladies pursuing a professional career.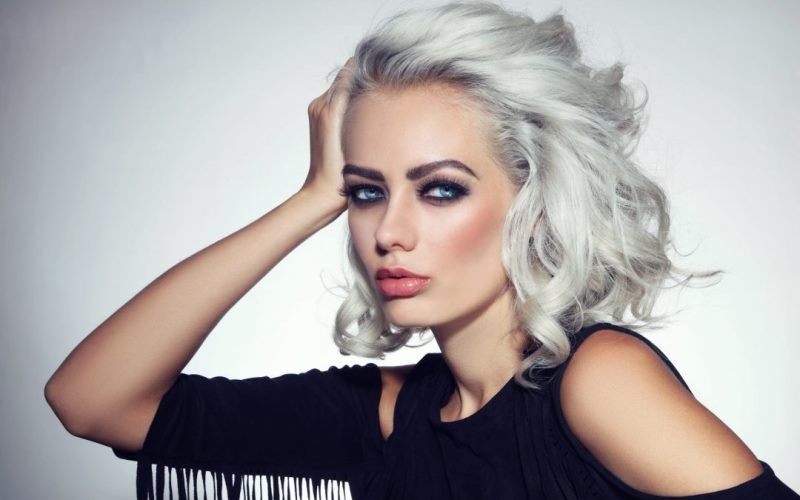 3. Rose gold hair color
This hair color has been trending for a while. The shimmering hues of pink and gold is becoming a beauty statement of choice for many women. There are different ways to rock this hair color. For instance you can decide to dye only the ends or a few streaks throughout the hair. This color never gets out style and leaves you looking cool and sassy. A few celebrities such Chloe Kardashian, Katy Perry, who are cool skinned rock this hair color and it looks so amazing on them.
4. Light blonde
This hair color is a combination of blonde and honey highlights. This hair color is best suited for women with medium and thick hair. It works best on naturally straightened locks. Beyoncé is one of the celebrities who rocks this hair color by having it centered then she blows it out to achieve a straightened look. The hair color gives her the right moment in the spotlight.Nowonder she is referred to as the queen bee.
5. Platinum blonde
This hair color is normally rocked by Julianna Hough who is an American based dancer. This hair style suits best women with long and thick hair. The hair normally ads body to the roots and gives the hair a textured look. The shade is low fuss yet a sexy hairstyle. Julianna knows best to rock this hair color. The long layers of her hair are normally cut around the edges to make it easy to style the hair.
6. Balayage hair color
Often people confuse this shade with the ombre.The balayage is two toned color which blends well for women with the cool skin type. It goes handy with thick and long color. This hair shade is a combination of black and blonde shade blended together. One of the celebrities who usually rocks this hair is Jessica Alba who is an American entertainer and business women. The hair color blends well with her skin type leaving her look beautiful as the shade blends well with her skin.
7. Medium red hair color
This is a post blonde color. Many call it the happy, strawberry-shiny penny hair. The hair looks cool on women with round faces and have long, thick hair. Emma Stone is one of the female celebrities who rocks this hair color. She is an American based actress. When she decided to rock this shade, she wanted a shade that is dark but not too dark. This hair suits her so well despite her natural hair color being blonde.
8. Dark brown hair color
This is normally goes well when one blends the dark color with blonde highlights. The hair shade requires one to have voluminous and long hair so as to bring out perfect results. Meghan Fox, an American actress is known to effortlessly rock this hair shade. The brown highlights normally add volume to the hair making one look chic and classy. It is a simple shade that any woman with a cool skin type can effortlessly rock. Try this shade and enjoy easy hair styling days ahead.
9. Caramel Brown Hair Color
Brown color is the most underappreciated. This is because it is normally plain. The caramel brown normally go handy with a cool skin tone. This is because it brings out a shiny effect to the hair while maintaining the natural hair color of the hair. The hair looks better on women with long and thick hair. It is easy to maintain and rock this hair color as all is required is a little maintenance i.e. conditioning.
10. Silvery Platinum
This hair color is perfect for the cool skin undertones. It requires so much confidence to rock this hairstyle. This is because it is quite shouting in such a way that everyone will turn their heads around and stare at you. Michelle Williams an actress is one celebrity who rocks this hair color. She has a cool skin tone and a touch of pink undertones. The hair color really blends well with her skin and we all see how confidently she rocks it around.
11. Brown- Blonde Hair Color
This is basically a fusion of any brunette and blonde shade which naturally gives out a sun kissed look. This much different from the normal dark and light hair colors. The color is great for women who can't decide between two luxurious hues. This color has never been out of style. In fact it is one of the sexiest hair shades that you can decide to rock. Different celebrities rock this hair color and it looks damn hot on them.
12. Reverse Ombre Red Hair Color
This is a classy hair style that has been trending for decades. The style is classy and elegant. I like the hair style because it looks amazing on any hair length. All you need is to have voluminous hair that will texture and volume. This technique of achieving this color entails having a darker red and then you highlight the tips with a brighter red.The color is perfect for women who have issues with deciding which red color they wish to choose from.
13. Light Lavender Balayage
This is a daring hair color which was initially reserved for parties. Nowadays it is a style statement which most women are trying out. The cool skin toned women have ever gone wrong with this hair color. This shade works best for women with a medium light complexion. This is because the shade is not too light neither is it dark. Once you try this color out it automatically becomes your hair signature. It is easy to maintain, all you need to do is regularly condition your hair.
14. Ash Blonde Hair Color
Blonde shade has been going from the warmer tones to darker tones. Ash blonde is a shade for women who have cool skin tone with a pale complexion. This kind of women are able to pull up this style effortlessly. This hair color requires high maintenance especially if you aim at achieving a natural look. Several celebrities such as Beyoncé are known to effortlessly rock this amazing hair shade. The color tends to reflect more as compared to the normal blonde.
15. Dark Auburn Hair Color
This is a shade that involves the combination of deep golden red and warm brown shades. It is a sophisticated red color that looks amazing on women with a cool and warm skin tone. The shade looks amazing when blended with long and voluminous hair. There are different celebrities who rock this amazing color and it looks brilliant on them. Actress Julianne is known to rock this elegant hair color.
With the above hair colors mentioned it is now easier for one to choose the shade of their choice. Cool skin toned women have an advantage because they have a variety of hair colors to choose from. As mentioned above different celebrities with cool skin tone rock the hair shades mentioned above and look sexy and stunning on them. All you need to know apart from your skin tone is your hair type and you good to choose the hair color you want to rock during summer or winter. However regular maintenance such as conditioning is required if you want to maintain a healthy and chic hair of your choice.