Most of the dark skin men out there naturally have dark hair. With age, their hair tends to grow grey, this gives them a reason to have other hair colors. Apart from hair growing grey, one might have an idea of having a different hair color to either look better or even match a hair color with a certain clothing color for a certain event. One thing to consider before you look for the best hair color dye is to avoid the lady's hair dye. For advice, if you are to wear the color for a short time since the lady's color does not wash away easily and show off the roots after washing.
The worst mistake you can make as a gentleman is having the wrong hair color. It's a huge turn-off, especially for some good-looking classy lady around the hall who is so interested in you. To avoid all those awkward situations below are the best hair colors out there to match with your dark skin and make you look astonishing.
1. Plum Cherry
Currently, colored hair is trendy, and everyone has this feeling of wanting to be different from others and standing out of the crowd. Plum cherry hair color is the perfect choice for dark skin wanting to experience a new lookout there. Activate curl in your hair using a curl activator and have an undercut haircut to finish up the style. Make your hair wavy and medium length to have a tremendous look and make you adorable.
2. Gray
With aging men tend to grow gray hair. Going gray can be because you want to go trendy on your new looks or you are aging and want to cover up your gray hairs. To get the best results make sure you uniformly color your head with the gray color. Keep your hair short by having them at half an inch long. You can also have a fade on the sides or a blend of the undercut.
3. Little Blonde With Black Hair Color
We are now narrowing it down to the "gentlemen only" option down here. This is a blend of just a little blonde to the most dominant black. Just take part of your hair to be blonde and style the hair to your desired shape. Adding an undercut to this kind of hair color will work perfectly, only to ensure that the roots of your hair are black. This hair color brings perfection to dark skin and can be worn on all occasions.
4. Chocolate Brown Hair
If you want to go more somber and have a toned-down appearance, this is the best hair color for you. Matching this with your dark skin provides a shade of color that will make you appear so professional, bold, and willing to stand out. Add an undercut to this hair color to make the top longer hair appear and be noticed. One advantage of this hair color is that it is versatile for all occasions, ranging from official to casual events.
5. Pink Hair
Pink hair is associate with gentleness, being sensitivity, and strategy. Matching it with your dark skin will produce the best combination out there. To ensure that you have maintained your frame as a man, keep your hair at half an inch tall. Add a fade on the color on the sides of your head to ensure a classy touch to your hair color. This hair color can be worn in all seasons, you can complement your style with this hair color.
6. Neutral Medium Brown
This hair color is versatile since it can complement all skin tones, dark being among the best it can blend with. Having a fine hair texture to this hair color is an added advantage since it will make you look finer in this hair color. To enhance the good look from this hairstyle, have a short spiky haircut or add a fade with an undercut to your hair.
7. Golden Blonde Color
This hair color for dark skin comes with sterling golden highlights to make it notable. The trick behind making this hair color look nice on you is to ensure a medium undercut or ensure that your hair is medium texture and length. This hair color is the perfect candidate for someone with light eyes. Add a small amount of styling gel to style this hair color to your preferred hairstyle.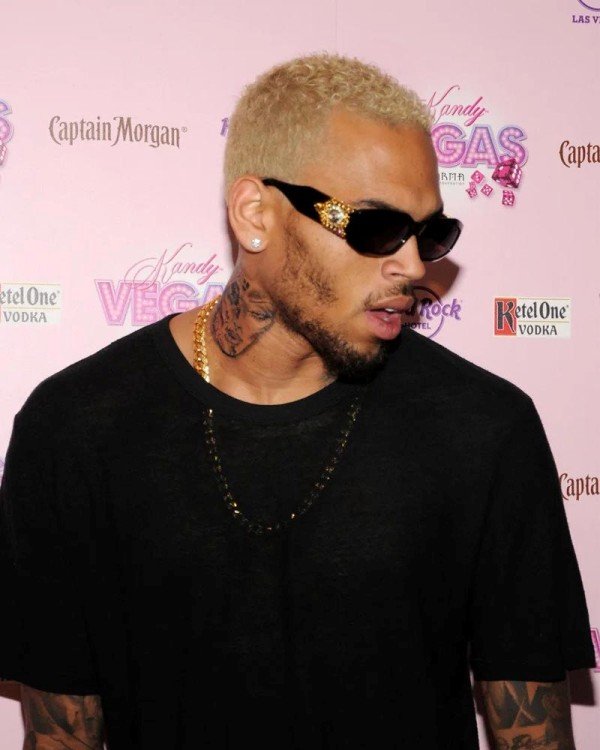 8. Midnight Blue
This is another option for someone impressed by his dark skin and who wants to go darker. You won't go wrong with this midnight blue eye color. This hair color will help your hair stand out because of its subtle blue tint that will make you stand out without too much attention, a thing almost all gentlemen want. To avoid monotony in your style, wearing this hair color ensures you avoid dark color in your attire.
9. Faded Purple Color
Imagine yourself wearing this hair color, the level of your standing out will be so astonishing. Make long spikes out of your thick texture hair and ensure that the hair in your head is long and of uniform size. Style them using a styling gel to behave as a Mohawk and your hair spikes should follow a certain pattern. The faded purple color when blended with the dark skin will reflect you, a taste of perfection.
10. Peacock Color
As the name suggests, this is exactly what this hair color is. It is a combination of the following hair colors; turquoise, teal, and blue. Dark people can be a little hesitant about getting their hair with fancy colors but be rest assured, you won't go wrong with this hair color. Matching it with dark skin requires a little tweak, shaving your hair in a Mohawk style, and having the top colors being a little bit luminous to make it cool.
11. Silver Color Hair
Blonde colors may not be ideal for dark skins but twisting it to produce a silver color is the best alternative for dark skins. Being a man the trick behind this hairstyle is having a slicked back undercut. The silver color should be your color. The hair on the top of the head is styled backward to ensure a trendy look and blending of the sliver color and the dark skin color to be shown. This hair color is fit for dark skins and can be worn on all occasions.
12. Edgy Brownish-Gray Hair
The tip for you who wants to have a color that will last longer is keeping your hair longer on top and applying the edgy brownish color. The middle of your hair should be having a gray color but the roots of the hair should be maintained at their natural color. The hue, right from the brownish color to gray to back hair color to the dark skin eventually will produce a great style for you. It's a new style if you want to look more detailed and appealing.
13. Platinum Blonde Hair
These are naturally meant for gentlemen who are always ready to make a bold statement. You've always seen bleaching and dying of hair time-consuming and a great hassle? The platinum blond will make it worth your while. To make the process more captivating, get yourself an undercut. Your side hairs should remain naturally black, add buzz to one side of your head to companion the good street style look.
14. Light Gray Spiky Hair
This is a good hair color idea for you, especially if you like to keep the top hair of your head longer. The colors are hued from light gray in the middle of the head and a little black hair at the sides of the head. The undercut part of the head should be shaved completely and the long hair on the top of the head spiked. To achieve the best appearance out there the spikes should be a little bit messy, this kind of hairstyle is perfect for guys with a dark skin tone.
15. Grey To Black Color
Grey to black color looks great on dark skin, especially if you aren't sure of the hair color that you can choose. This hair color gives you a taste in between going fully gray and maintaining your dark hair, for this reason, you will never go wrong with this hair color. The hair color is hued with a little of the natural black color to ensure a blend in between the gray color and the dark skin. Although the roots of the hair are maintained black the tips are fully grey. Remember hair curl activation is not for women only, curl your hair to get a new look.
Conclusion
As a man, knowing the hair color that can complement your dark skin can be a challenging thing. With the above discussion, you can now choose a hair color that suits your skin and the occasions on which that hair color can be worn. For instance, if you want to go on an official occasion you can now get the hair color that fits that occasion. To get the best results out of the hair colors above, let a professional do it for you. As you plan on getting your hair's dream color I wish you all the best.