Tired of the same old boring hairstyles? Then you might want to experiment with an edgy hairstyle. The edgy haircut features bright colors, sharp lines, and undercuts. Take the daring step and go for an edgy look that will turn heads as you walk by.
Always style your bangs because they can make you look younger. They should be styled to one side so that they do not completely cover your brow. When considering a new look, consult with your stylist to find a style that complements your face shape, complexion, and hair texture. You can wear bright colors because they make you look younger.
We have discussed a variety of edgy hairstyles and we hope that you will find one that you like.
1. Pixie hairstyle
Because it is simple to achieve and maintain, the pixie cut is ideal for women over the age of fifty. Short haircuts make older women appear younger by emphasizing their soft features. The blonde pixie cut with side bangs and layers is the key to this look. Layering the bob creates the illusion of volume in flat locks. The side swept bangs give the haircut a simple but stylish look.
2. Short Inverted Bob
Women who prefer short hair to long hair prefer short, inverted bobs. This short-inverted bob is popular among women over 50, and it can be complemented with bangs and fringes. A short-inverted bob is also appropriate for all hair types. You don't have to be concerned about your hair type because this style will work for you. This look is best suited for casual occasions. With the right outfit, you'll look fantastic in this haircut.
3. Short bob with bangs
Gray hair is nowadays considered elegant. If your hair is growing gray do not be concerned about it. You can ask your stylist to dye it to ash color which will complement your age. Ash color will not go unnoticed wherever you go. The key to this style is a short ash bob with bangs. The bangs are dressed in a way that covers the side of your forehead making you appear youthful.
4. Feathered Blonde Balayage Pixie
Balayage is the new trend, it is a technique that involves free-hand painting highlights onto the hair, which creates a gradual shift to light colors towards the ends of hair. This look is distinguished by feathered layers and a balayage pixie cut. The feathered layer adds volume to thin hair and creates the illusion of volume. This look is ideal for women who are outgoing and always on the go.
5. Edgy Pixie Bob with Front Bangs
This hairstyle is asymmetrical with the front tresses cut short and the side short to define the shape of your face. This style will bring out your jawline and give it an attractive look. This look is perfect when you wear it with glasses as it gives it a sassy appearance. To create a look like this, tell your hairstylist to cut the side hair short and keep the front hair long to achieve an asymmetrical height. Choose bold colors and wear this style with a matching outfit to achieve a classy look.
6. Asymmetrical Silver Pixie
If you love short haircuts then you might want to consider this style, it might be just what you are looking for. This style is fit for all hair types but it is perfect for oval and heart shaped faces. It features short hair at the back and sides while the front side is left long giving you an asymmetrical pattern. To crate and maintain this style you will need a round brush. Spice up this stye by letting some strands fall lightly on your forehead.
7. Dynamic Short Shag for thick hair
This style will show off your personality perfectly. The key of this style is blonde Layered, shaggy hair with side swept bangs and highlights. The base of the hair is chocolate with blonde highlights which makes the style both sophisticated and extravagant. The layers are heavy and it gives this look an illusion of volume and size. The bangs make the style more appealing. This haircut will for sure turn heads when you show up to a place wearing it.
8. Bob with Waves
Bob has been there for ages, while others may consider it boring and normal, but you can still rock it by adding waves, colors bangs, and fringe. With this, you will look young again. It is characterized by a wavy blonde bob with waves and side fringe. The fringe is styled in a way that it falls over the right eye giving it an edgy appearance. This hairstyle is perfect for thin hair texture as it makes it full.
9. Choppy Pixie Cut
In this day and age, the ombre technique is popular. If you're a fan of the ombre technique, this will catch your eye. This style is distinguished by a color transition from silver to black, which makes it both elegant and appealing. Choppy haircuts will make fine hair voluminous and give it a choppy but modern look. This cut is simple to create and maintain, which means you won't have to spend much time styling it because you can wash and wear it.
10. Blowout and Undercut
Blow out and undercut is a creative haircut that is edgy and makes you look young. This hairdo is best suited for someone who is looking for a style that will take her back to their youthful days. Don't be afraid of going for this insanely unique style. It can be dressed to an occasion where you would like to show off your style and beauty.
11. Silver Wave
Waves give the appearance of fullness to flat hair. Silver waves is a style that features silver waves that are kept away from the face, allowing your face to stand out. To achieve this look, comb your hair back and leave the front tresses loose to create a pompadour. The pompadour adds an edgy and sophisticated look to this style. This style is for those who want a style that will not take up too much of their time.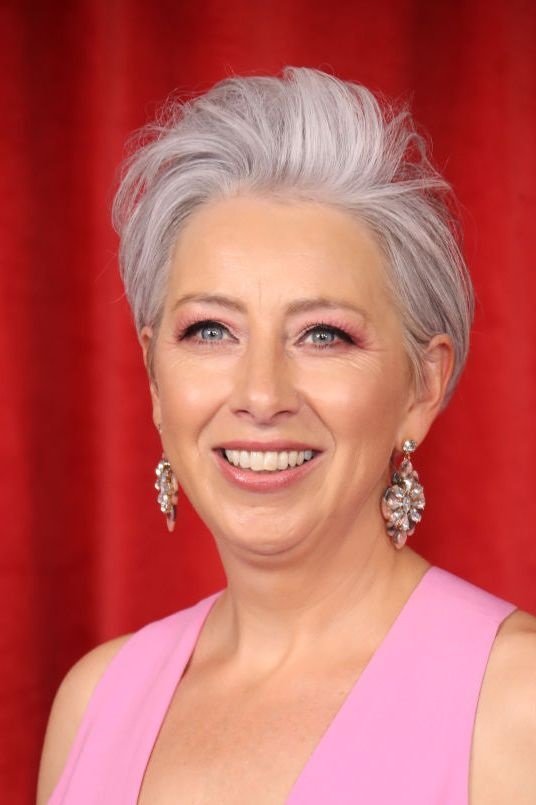 12. Blonde cropped hairstyle
The key to this look is to cut hair short at the side and leave the top hair long. Then add feathered layers and bangs that fall just above your brows to make this style elegant. Layers will make fine hair seem fuller. It is complemented by the blonde hair color. This style is perfect for someone who prefers short hair.
13. Messy Pixie with bangs
The new modern trend is a sloppy haircut. If you like to keep your hairstyle current, this is the way to go. Bangs are styled to fall on the top of your head. If you are self-conscious about your wrinkles, bangs will help you conceal them. A messed-up pixie cut adds volume to fine hair. This haircut is simple to style and maintain on a daily basis. The blonde color makes this hairdo distinct.
14. Pixie with Pompadour Bangs
Pompadour was a trend of the past but it has reemerged, the good news is that it is simple to make it modern. This look is suited for someone with a strong personality and sense of style. For this cut to be perfect your hair must be curt in a way that it fits the shape of your face. This style can be accompanied by accessories to make it more alluring. If you do not like hair falling to your face then this style is the best for you.
Nobody said you couldn't keep up with the ever-changing fashion trends after the age of fifty. In fact, now that you don't have as many parenting responsibilities, you should be more invested in it. Your fifties should be a time to reflect on yourself. If you want to go for an edgy haircut, go for it! Choose one style that brings out the best in you. If you really want to grow your gray, go for it; the Ombre technique will also make you appear attractive and young.
Pompadour was a popular style in the past, but it has resurfaced in this day and age. You can wear this style and still look like you're in your twenties. Short hair with an edgy style expresses a strong personality and sense of fashion.